PVNC CATHOLIC INSPIRES: St. Mary CSS student recognized for school and community leadership to education and reconciliation
March 27, 2023
Gabriella deHaas finalist for the prestigious Loran Scholars Foundation
Inspiration comes when you least expect it. At least, that is what St. Mary Catholic Secondary School student Gabriella deHaas experienced during the wave of pandemic lockdowns.
While the pandemic limited most extracurricular school programs, deHaas' Alderville First Nation community continued with various activities and programming for youth. Zoom meetings, craft kits, and conversations about Indigenous teachings sparked a passion within her to learn more about her roots. 
"I knew of my Indigenous heritage as I live in Alderville and my father is Indigenous but growing up attending a Catholic school, I never fully understood what my culture meant," reflects deHaas. "I knew it was always there and it's something that always kind of loomed over me a little bit. I knew I wanted it and I knew I needed it but I didn't know how to do it and then there's this fear that comes with all the history." 
"She's inspiring people every day." – Julie Brown, St. Mary CSS teacher 
This tiny spark grew into a full flame as, out of a pool of nearly 4,800 applicants across Canada, deHaas became one of only 90 young people selected as Loran Finalists for the class of 2023. Ultimately, she was offered the Loran Award, which comes with a $100,000 scholarship, but she declined, instead choosing to attend a non-partnered university of Loran to follow her passion. deHaas was awarded the $5,000 Finalist Award to put towards her post-secondary education. In addition to this, deHaas has won numerous awards, including a YMCA Northumberland Peace Medal, for her school and community leadership and commitment to education and reconciliation. 
Taking that initial intimidating feeling she had, deHaas used it to understand the hesitancy others may have about learning and becoming immersed in Indigenous culture, not only for Indigenous people but also those who wish to be good allies. 
To learn more for herself first, deHaas dove head first into her heritage by becoming a larger part of her youth group, taking up sewing, creating regalia to participate in fancy shawl dancing, attempting beading, as well as learning to drum and sing with other women in the community.


She has used that learning and personal experience to become an advocate for Indigenous education and reconciliation in her school and broader community. 
Julie Brown, who teaches the St. Mary CSS Understanding Contemporary First Nations, Métis, and Inuit Voices course, credits deHaas for being a huge presence and inspiration in the school community for students and educators alike.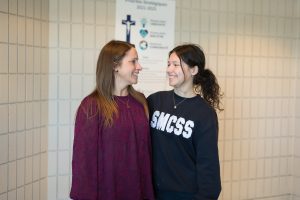 "It was a learning experience for me, and for Gabby, and it has changed my life and the way I teach the course," Brown says. "Now that she's in Grade 12 she's inspiring people every day, not just in her Indigenous community, but also in her school. She is the one we look to to create the tone and atmosphere that we want to create here. Students are starting to embrace their culture within our school and develop the courage to say they do have Indigenous roots. Gabby has helped students be proud."
Despite not taking the full Loran Scholarship, deHaas will still be attending post-secondary school for Indigenous Education where she aims to continue to learn about her culture but also how to teach others. Long term, she hopes to be able to give back to her community and develop a program for educators themselves that serves as a "crash course" so teachers feel more comfortable delivering Indigenous curriculum they may not be confident in knowing much about.
deHaas' story is an inspiring example of the power of community involvement and the importance of preserving cultural heritage. Through her efforts, she not only discovered a part of her identity that she had not yet embraced but also became a role model for other indigenous youth who may be struggling with similar issues. Her journey shows that it is never too late to connect with your roots and that by doing so, you can create a meaningful impact on your community and beyond.
About the Loran Scholarship
The Loran Scholars Foundation identifies students with character; those who believe in pushing boundaries by questioning the status quo, while showing compassion and a commitment to service—seeing a need and making positive change in their own communities. These young people view the world through a lens of curiosity, and have leadership qualities they may not even fully realize themselves.