Good Shepherd CES hosts educators from Netherlands during StudyTrip
Educators and students at Good Shepherd CES showed off an array of deep learning projects to a delegation of visiting Dutch educators during a deep learning showcase at Good Shepherd Catholic Elementary School in Courtice on March 23, 2023.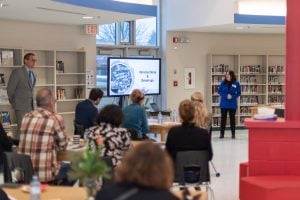 Ranging from Kindergarten to Grade 6, projects covered student-led initiatives such as refugee support, an environmentally focussed tower garden project, and many projects that displayed issues students felt passionate about.  
"What we saw was student engagement in their learning. We saw their passion for their learning, and most importantly, we saw them able to communicate and articulate that learning," explained Superintendent of Learning Julie Selby. "These were also projects where students took action and created positive change. These projects were all such vivid examples of the skillsets we're aiming to equip our students with to be prepared for a rapidly changing world."
The group of 30 educators from Helmond, Netherlands were taking part in a study trip, visiting various school locations across Ontario to see real-world examples of deep learning in practice. Peterborough Victoria Northumberland and Clarington Catholic District School Board has maintained a strong partnership with educators in the Netherlands as the Board developed its deep learning program, underscoring the global partnerships that strengthen this approach.
"One of the fundamental elements of deep learning is learning partnerships, which was epitomized as we welcomed international educators to learn first-hand from our students, teachers and school administration," Selby said. "It's exciting that our work is on their radar and we're happy to be part of this global deep learning partnership."