St. Mary CSS student awarded YMCA Northumberland Peace Medal
On Wednesday, Nov. 16, the YMCA Northumberland gathered to celebrate their 34th annual YMCA Peace Medal Ceremony. After two years of gathering virtually, a full house was present for the ceremony that honored three individuals, two adults and one youth, including St. Mary Catholic Secondary School student Gabriella deHaas.
The YMCA Peace Medal recognizes and honours community members for their dedication to peace in the community without any special resources.
Grade 12 student Gabriella was the youth recipient of this year's award for her leadership, compassion, and dedication to peace building in the St. Mary community and beyond. Being Anishinaabe Kwe, Gabriella is a gifted artist, inspirational speaker, and is described as a humble leader by her peers. She is active in the school community as a student council leader, peer tutor, and morning PA host.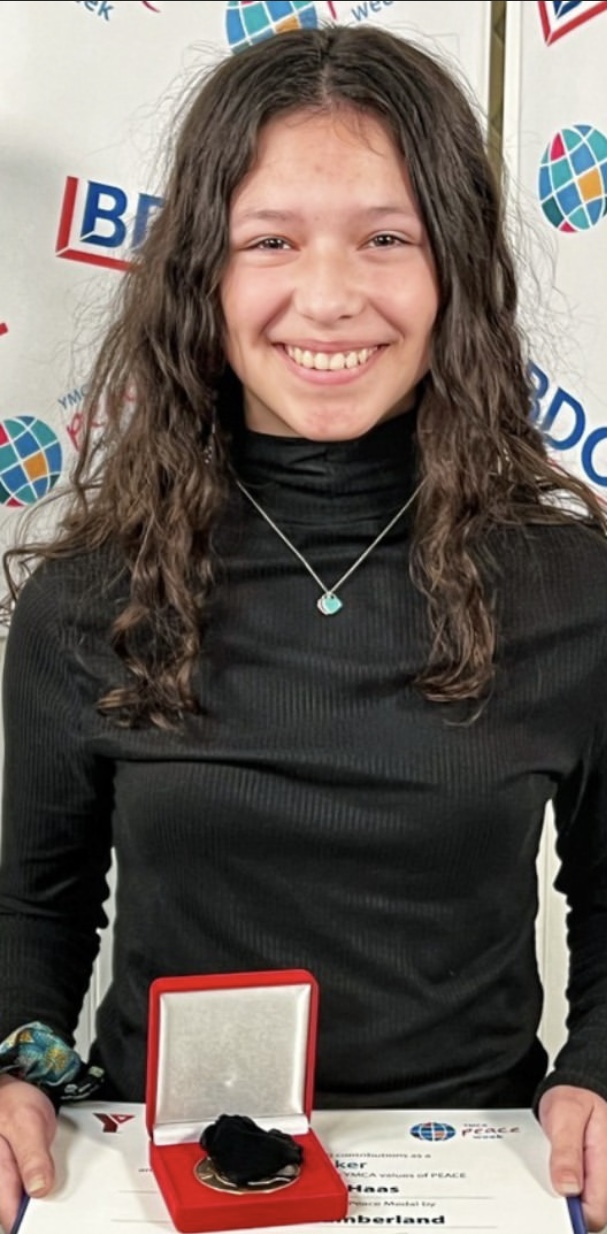 Gabriella's Anishinaabe name is Oshoskuk Mikinuk, which means green turtle. Her poignant presence has inspired her community on National Truth and Reconciliation Day, Red Dress Day, and she is also dedicated to raising awareness around Missing and Murdered Indigenous Women.
"Gabriella is passionate and touches hearts," says St. Mary CSS Chaplaincy Leader Cathy Mosole. "She has inspired the minds of her peers and has left a legacy here at SMCSS. We are beyond grateful and eternally blessed by her presence."