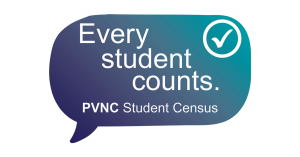 At Peterborough Victoria Northumberland and Clarington (PVNC) Catholic District School Board, we are committed to identifying and removing barriers so all students can achieve excellence in faith-filled, loving, safe, inclusive schools.
To learn more about our students, we are set to launch our Every Student Counts PVNC Student Census to gather identity-based student data so that we can identify and address systemic barriers by focusing our programming and resources.
Many school boards have conducted a student census. In fact, the Anti-Racism Act, 2017 and Ontario's Education Equity Action Plan require school boards to gather and report this data. 
Ensuring Equity is one of our strategic priorities in the Board's 2021-2025 Strategic Plan and the Board will use the Student Census Survey Data to inform our Catholic Board and School Improvement goals on an annual basis.
Secure and Confidential 
We recognize that asking about a person's identity can be uncomfortable, and we will do so with sensitivity. This confidential, anonymous survey will take approximately 15 minutes to complete and this process is entirely voluntary. 
PVNC respects the privacy of our students and families. Data will be collected in a secure manner as directed by applicable privacy legislation and best practices.
Reports will never single out or identify a student or family. Data will only be reported in a summarized way to highlight our community's needs.
Your Voice Matters 
Your participation in the Student Census is important to us in order to better learn about and serve our PVNC community. The higher the completion rate, the more reliable the information will be to help us identify and remove systemic barriers. 
Take the Survey 
For elementary students, the Board will be sending a survey link directly to parents/guardians through email. Parents/guardians of children in grades 1 to 6 will be asked to complete the survey on behalf of their child. Parents/guardians of children in grades 7-8 will be asked to discuss the survey with their children before completing the survey with their child or allowing their child to complete it on their own. 
We are providing consent forms for parents/guardians of students in grades 9 to 10 to complete and sign. Students in grades 9 and 10 who have parental permission will be provided a link to the survey by their classroom teacher and classroom time to complete the survey. 
Students in grades 11 to 12, who may provide their own consent to participate, will be sent the link directly to their Board email accounts and will also be provided classroom time to complete the survey. 
Preview of Parent Survey (for students in grades 1-6)
Preview of Student Survey (for students in grades 7-12)
Note: The above links are for viewing purposes only. Live links to the online surveys will be provided directly to parents/guardians and students.
Timeline
We hope to have the Every Student Counts PVNC Student Census surveys launched by early October 2021.
Questions/Concerns?
If you have questions or concerns about the Every Student Counts PVNC Student Census, please contact Shannon Carr at the Board office at scarr@pvnccdsb.on.ca or by calling 1-705-748-4861 ext. 1241.