Director's Christmas Message


December 2018
As we enter that time of year when the days are shortest, we celebrate the coming of Christ into our world  – the light of the world that illuminates and brightens our hearts and our lives. To all of our students, parents and guardians, and staff in the PVNC community, Merry Christmas. May you experience the joy, peace, rest, and love that are at the heart of this holy season. Too often we are caught up in the busyness and pressures that seem to be overwhelming this time. Let's all take a few minutes to be good to ourselves and to be good to those around us, especially those who are in the greatest need. It is in them that we meet the Christ, born into our world.
The students in our PVNC schools have been reflecting on these themes this Advent. They have been engaged in prayer, Christian meditation and celebrations, fundraising and works of mercy, and in reflecting on social teachings of the Church and what they call us to as we try to respond to the critical issues of our time. Regardless of age, PVNC students are challenged to learn and be engaged in thinking critically about important topics, and to look for ways in which they can make a difference right where they are. Whether it is collecting funds for the St. Vincent de Paul society or lobbying municipal government to support a new youth centre or collecting warm clothing for communities in the far north, PVNC students are constantly being challenged to understand the connections between the three pillars of our vision:  learn, lead and serve. These are not just nice words; they are moral imperatives for Catholic educators and learners alike. We must be open to learning new things, all of us. In learning, we can come to appreciate the opportunities that are before us and can say "yes" to being leaders in our own time and place. And in all of this, we are called to serve others. "Whatever you did for one of the least of these brothers and sisters of mine, you did for me."
In these times of change, adjustment and transition, we remain firm in the foundations of our Catholic education system. We remain committed to each and every one of our students. We continue to use all of our energies and resources to make our schools the healthiest, most engaging, most welcoming, and energizing places of learning they can be.
To all of you in PVNC, Merry Christmas and Happy New Year 2019!
Michael Nasello
Director of Education/Secretary Treasurer
Director's Annual Report 2017-2018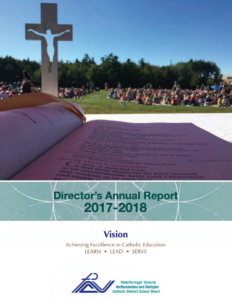 Director's Office staff
 Title
 Contact
Director of Education/
Secretary Treasurer
Michael Nasello
(705) 748-4861, Ext. 224
Email:mnasello@pvnccdsb.on.ca
Executive Assistant
Office of the Director of Education
Michelle Kennedy
(705) 748-4861, Ext. 247
Email:mkennedy@pvnccdsb.on.ca
Communications Manager
Galen Eagle
(705) 748-4861, Ext. 245
Email: geagle@pvnccdsb.on.ca
Visual Communications Specialist/
Administrative Assistant
Office of the Director of Education
Andrea Bradley
(705) 748-4861, Ext. 243
Email: abradley@pvnccdsb.on.ca
Records and Information Management Coordinator
Nancy Massie
(705) 748-4691, Ext. 221
Email: nmassie@pvnccdsb.on.ca