Director's Summer Message


June 2019
We come to the end of the 2018/2019 school year just as we complete the cycle of feast days following Easter – our celebration of the great mysteries of Christian faith. Everywhere I look, I see signs of this mystery at work, but nowhere more evident than in what I would call "the healthy creative tension between faith and good works". During a discussion about the balance between prayer and social justice and how they are interconnected, our bishop, Bishop Daniel Miehm, said, "we have to breathe in, but we have to breathe out too."  It was one of the foundational discussions for Renewing the Promise:  A Pastoral Letter for Catholic Education (ACBO).
By our teaching and through our example, we try to instill in our students the understanding that Jesus had a unique way of looking at things. It's the way God looks at things. We do this when we are open to God in prayer and connected to the world around us through social justice activity. At PVNC, our vision is that we are called to Learn, Lead, and Serve – a simple but profound expression of this truth. This year in particular, we have been teaching our students the art of Christian Meditation as a way of centering ourselves in God's presence. We have been challenging each other to hear and see the needs of the world around us and to respond generously. Our staff and students continue to reach in to their own depths and to reach out to their neighbours. In both experiences, I am confident they are experiencing God in their midst and are making God visible to their world.  
It has been an exciting year of teaching and learning at PVNC. I encourage you to view the Year-in-Review video highlighted on our board website. It gives a close look at some exciting adventures in learning that we are most proud of this year. I sincerely thank all of our board staff for their dedication and commitment to students, for going the extra 'mile' every day to ensure our students are safe, welcome, included and successful at school. 
 I wish all of you a restful and safe summer and look forward to another year of learning and growing at PVNC.  God bless. 
Michael Nasello
Director of Education/Secretary Treasurer
Director's Annual Report 2017-2018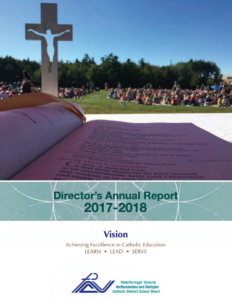 Director's Office staff
 Title
 Contact
Director of Education/
Secretary Treasurer
Michael Nasello
(705) 748-4861, Ext. 224
Email:mnasello@pvnccdsb.on.ca
Executive Assistant
Office of the Director of Education
Michelle Kennedy
(705) 748-4861, Ext. 247
Email:mkennedy@pvnccdsb.on.ca
Communications Manager
Galen Eagle
(705) 748-4861, Ext. 245
Email: geagle@pvnccdsb.on.ca
Visual Communications Specialist/
Administrative Assistant
Office of the Director of Education
Andrea Bradley
(705) 748-4861, Ext. 243
Email: abradley@pvnccdsb.on.ca
Records and Information Management Coordinator
Nancy Massie
(705) 748-4691, Ext. 221
Email: nmassie@pvnccdsb.on.ca