Sept. 25, 2020
Director's Back to School Message
Staff and Students of PVNC Catholic District School Board, welcome to the 2020-2021 school year.
This is truly a year like no other. We have returned to school with new routines, fewer students in our physical school classrooms, lots of new faces in our virtual school classrooms, new ways of teaching and learning especially online, a new elementary math curriculum, and all of us wondering how well it's going to go. I am so grateful to everyone who has made our reentry into this school year successful: our principals and vice principals, our team at the school board office, all of our teachers and staff, and our parents and you students for your encouragement and support.
I am so happy to see all of you back at school and am delighted to welcome all those who are new to our school system. I hope you are able to enter into the learning, to meet new friends and renew old friendships, and to feel good about being at school, whether in person or online.
And you know, with all of the wondering and uncertainty about COVID-19, there is one thing I am absolutely sure about – we are not alone. God is with us, accompanying us every step of the way. God is with us when we pray, God is with us when we listen to each other and encourage each other, and God is with us when we feel down or unsure – even when we feel alone. Remember that we are never alone – God is always with us. God created us and made us good. We are all wonderfully made, a message you are going to be hearing over and over again this year. And in this season of Creation, when we remember all of the incredible gifts God has bestowed on us on this earth, we also remember our responsibility to take care of the earth, to see ourselves as a part of God's creation, wonderfully made with dignity and purpose.
So today,  I have a challenge for all of you:  when you do all those things we have been asking you to do, let's do them for each other. When you are wearing a mask, staying as far apart as possible from each other in hallways, outside, or on the bus, washing your hands frequently, sneezing or coughing into your sleeve, staying in your cohort or group, when you avoid the temptation to go and hang out with friends in large groups – when you do these things, you are caring for each other. You are being a good citizen, a good community builder, and a good Christian. When we do these things for each other, we are doing what God calls us all to do – we are showing love for our neighbour and love for God.
This is my last school opening with you since I will be retiring at the end of January. Let's pray for each other today and every day. I know I am praying for all of you now and giving thanks to God for the gift of being able to lead all of you these past four years.
God bless you all.

Michael Nasello
Director of Education
Director's Annual Report 2018-2019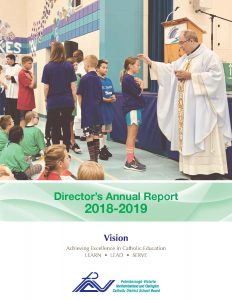 Director's Office staff
 Title
 Contact
Director of Education/
Secretary Treasurer
Michael Nasello
(705) 748-4861, Ext. 1224
Email:mnasello@pvnccdsb.on.ca
Executive Assistant
Office of the Director of Education
Michelle Kennedy
(705) 748-4861, Ext. 1247
Email:mkennedy@pvnccdsb.on.ca
Communications Manager
Galen Eagle
(705) 748-4861, Ext. 1245
Email: geagle@pvnccdsb.on.ca
Visual Communications Specialist/
Administrative Assistant
Office of the Director of Education
Andrea Bradley
(705) 748-4861, Ext. 1243
Email: abradley@pvnccdsb.on.ca
Records and Information Management Coordinator
Nancy Massie
(705) 748-4691, Ext. 1221
Email: nmassie@pvnccdsb.on.ca