Director's Back to School Message


September 2019
Welcome to the 2019/2020 school year. We are excited to welcome all of our students back to school, or to school for the first time. Our students' smiling and excited faces will be greeted by our smiling and excited faces! Our staff is ready, buses are running, and our schools are polished and shining. We ask God to bless our work this year and the partnership we enjoy between homes, schools and parishes, as we continue the great work of Catholic Education here in PVNC. We continue to be guided by the Ontario Catholic Graduate Expectations, now in their 20th year in the Catholic schools of Ontario. 
No doubt you are hearing and reading about changes being implemented by the Ministry of Education: a revised Math curriculum, a revised Health & Physical Education curriculum, a new Grade 10 Career Studies program, and new expectations for the use of cell phones in schools. Here are a few updates:
The revisions to the Math curriculum are just getting underway and will not be ready for September, but we will continue the excellent work our teachers do in the classroom and will continue to provide helpful tips to parents from our math consultants here at the board office. 

The revised Health & Physical Education curriculum contains a number of new topics: bullying to be covered in two additional grades, in addition to other efforts schools make to address these issues; education about cannabis will be expanded in Grades 5-8;  concussions will be discussed in all grades; consent will be discussed in all grades at age appropriate levels; healthy body image will be covered in the primary grades as well as later grades; mental health will be addressed in all grades at age appropriate levels; and online safety will be expanded to all grades as well. The human development and sexual health topics will continue to be taught through our Family Life Education program

Fully Alive

and will be virtually the same as in previous years. 

The new Grade 10 Career Studies program contains new lessons on financial literacy.

The revised expectations for the use of cell phones, to take full effect in November, are very similar to the expectations that exist now in PVNC schools: cell phones can only be used for learning activities under the direction of a teacher, for special education needs, or for medical or mental health needs. More communication about the management of these issues will be available later in the fall. 
Finally, we celebrate the World Day of Prayer for the Care of Creation on Sunday, September 1, and the Season of Creation from September 1 to October 4, the feast of St. Francis of Assisi. I am calling on everyone in the PVNC community to make this year a year of focus on the Care of Creation. As expressed in Pope Francis' encyclical Laudato Si', we are invited "to see nature as a magnificent book in which God speaks to us and grants us a glimpse of his infinite beauty and goodness." He has appealed for "a new dialogue" about how we are shaping the future of our planet. He calls for a conversation about the current environmental crisis to include everyone. [Laudato Si', 12-14]  In calling all of us in PVNC to more intentional learning, prayer, and action on the environment, which sustains our lives, it is my hope that we can do our part to bring about the changes that are needed for a sustainable and healthy future for all. 
I extend to all my prayers and best wishes for a very successful year. 
Michael Nasello
Director of Education/Secretary Treasurer
Director's Annual Report 2017-2018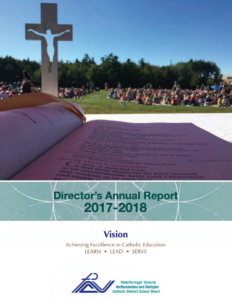 Director's Office staff
 Title
 Contact
Director of Education/
Secretary Treasurer
Michael Nasello
(705) 748-4861, Ext. 1224
Email:mnasello@pvnccdsb.on.ca
Executive Assistant
Office of the Director of Education
Michelle Kennedy
(705) 748-4861, Ext. 1247
Email:mkennedy@pvnccdsb.on.ca
Communications Manager
Galen Eagle
(705) 748-4861, Ext. 1245
Email: geagle@pvnccdsb.on.ca
Visual Communications Specialist/
Administrative Assistant
Office of the Director of Education
Andrea Bradley
(705) 748-4861, Ext. 1243
Email: abradley@pvnccdsb.on.ca
Records and Information Management Coordinator
Nancy Massie
(705) 748-4691, Ext. 1221
Email: nmassie@pvnccdsb.on.ca