April 7, 2020

PVNC Learn@Home Launched
Dear PVNC Staff, 
As you know from the Minister of Education's Letter to Ontario Families issued earlier this week, the Ministry of Education has directed school boards to offer distance teaching and learning for all students. As we look forward to resuming teacher-led instruction on Monday, April 6, 2020, I want to provide you with our TEACHER GUIDE to PVNC Learn@Home: Support Plan for Teaching and Learning During the COVID-19 School Closure. This is how we will be engaging our students in teaching and learning over the next four weeks at PVNC. Every one of us will be engaged in implementing this plan in some way, each in our own unique roles. 
All of us @PVNCCDSB are collaborating to continue student learning – day by day, step by step, removing one obstacle at a time. Thank you to all @PVNCCDSB staff for your dedication, creativity, and patience. #pvnclearns #pvncleads #pvncserves https://t.co/aCPidUQsjb

— Michael Nasello (@MSNasello) April 7, 2020
We have tried to address as many potential questions as possible in our PVNC Learn@Home Plan which is being shared with all PVNC students and parents/guardians this afternoon and is attached to this email.  I want to thank over twenty five of our PVNC teachers, principals, learning technology specialists, and senior leaders who have worked diligently over the past two weeks to get us ready for this launch.  In the Teacher Guide, there is a link to a wide selection of online resources, set out for your use in a coordinated and easy-to-access manner (p. 19). The team has created a Professional Learning Community of Google Classrooms for many different groups of our PVNC staff to enable you to collaborate online, to share resources, ask questions and co-create solutions to the challenges we will inevitably face (p. 27).  As we resume learning next week, we know many more questions will be raised, and we are committed to finding solutions as they arise. We will listen to the input we receive from staff, students, and families in the days ahead as we design future supports. A Frequently Asked Questions page will be developed next week.
I want to be absolutely clear, our goal is to ensure the successful completion of the school year for all students: to support students to advance to the next grade, to earn the credits in which they are currently enrolled, and to graduate if they are on track to do so. It is imperative to ensure that no student is disadvantaged because of this school closure nor their ability to access technology at home.
Our PVNC Learn@Home plan is designed to be flexible and accessible.  Learning may have to take place at different times during the day to accommodate the unique circumstances families and staff are facing. Starting Monday, teachers and RECE's will be making themselves accessible to their students online and you will be setting clear and achievable expectations for your students. We will all begin this process on Monday and gradually move forward through the coming weeks.  We have not yet finalized the roles and responsibilities of every employee group, but we will continue to develop this next week with the helpful input of our staff and senior team. Further information for support staff will be communicated to you next week. 
Principals will be working with staff members to develop a schedule for Teachers and RECE's who have not yet been able to access their school to retrieve their laptops or other devices to do so. This is the first priority. The second is to assist students who do not have a device to gain access to one, and we are working on a plan for that as well. Further information will follow. 
We are about to start a new journey together and there is going to be an adjustment period for staff, students and parents alike. I know we will encounter these challenges together with the care,  compassion and faith in God that are the hallmarks of the PVNC community. Thank you for your readiness to continue the work of Catholic Education in this new environment. 
Stay safe and God Bless,
Michael Nasello
Director of Education
Director's Annual Report 2018-2019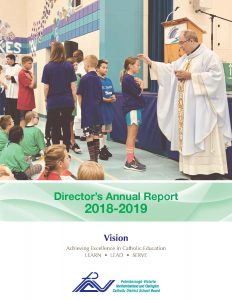 Director's Office staff
 Title
 Contact
Director of Education/
Secretary Treasurer
Michael Nasello
(705) 748-4861, Ext. 1224
Email:mnasello@pvnccdsb.on.ca
Executive Assistant
Office of the Director of Education
Michelle Kennedy
(705) 748-4861, Ext. 1247
Email:mkennedy@pvnccdsb.on.ca
Communications Manager
Galen Eagle
(705) 748-4861, Ext. 1245
Email: geagle@pvnccdsb.on.ca
Visual Communications Specialist/
Administrative Assistant
Office of the Director of Education
Andrea Bradley
(705) 748-4861, Ext. 1243
Email: abradley@pvnccdsb.on.ca
Records and Information Management Coordinator
Nancy Massie
(705) 748-4691, Ext. 1221
Email: nmassie@pvnccdsb.on.ca