Director's Christmas Message


December 2019
Best wishes to all of our PVNC students, families and staff for a Christmas celebration that is safe, peace-filled, and joyful. This time of year is an unusual mixture of excitement and stress, joy and anxiety, happiness and sadness. It seems all of the things we carry with us day to day – our hopes and dreams, our frustrations and sadnesses, are exaggerated in the Christmas season. We all need to be more patient, more compassionate, and more understanding. We need to be gentle with ourselves and each other. 
These thoughts came to mind as I was listening to a talk someone recently gave about the genealogy – the family tree – of Jesus. It was the passage from Matthew's gospel, listing the long lineage of male ancestors. The list was interspersed with the names of four women, women whose lives were difficult and challenging, women who had to find the courage to deal with the difficult circumstances of their time, their culture, their religion, and the sometimes harsh expectations that they had to endure. The speaker was highlighting the fact that even Jesus' grandmothers were people who knew the struggles of life, who walked in that tension between excitement and stress, joy and anxiety, happiness and sadness. It was from and into this human experience that Jesus was born. It is in this human experience – our human experience – that Christ continues to be present to us, offering us his transforming love, his hope, and his peace. 
All of us at PVNC are called to bring this love, hope and peace to the students we serve. It is in the midst of their tensions and struggles, their joys and sorrows, their excitement and stress, that we do this.  Through us, they cannot only come to know about Jesus, but they can come to know Jesus. It is through our teaching, our leadership and our service of accompaniment that our students' lives are transformed, and they can come to a place of discovery of themselves, the gifts God has given them, the world in which they live. I know beyond a shadow of a doubt that, together, we are making a difference. 
Let us continue to work together for the good of our students in 2020 – a new year and a new decade. Let us continue to bring our talents, expertise, our imaginations, our hard work, and our best selves to each one of our students. Let us support each other as we go – paying attention, responding as needs arise, taking the risk of walking alongside each other.  We are privileged to serve the students of PVNC and to be stewards of Catholic Education in the province of Ontario. 
Merry Christmas and Happy New Year to each of you – Joyeux Noël et Bonne Année!
Michael Nasello
Director of Education
Director's Annual Report 2018-2019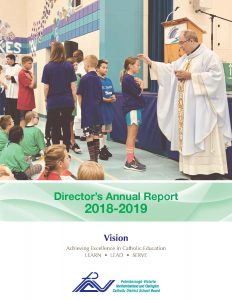 Director's Office staff
 Title
 Contact
Director of Education/
Secretary Treasurer
Michael Nasello
(705) 748-4861, Ext. 1224
Email:mnasello@pvnccdsb.on.ca
Executive Assistant
Office of the Director of Education
Michelle Kennedy
(705) 748-4861, Ext. 1247
Email:mkennedy@pvnccdsb.on.ca
Communications Manager
Galen Eagle
(705) 748-4861, Ext. 1245
Email: geagle@pvnccdsb.on.ca
Visual Communications Specialist/
Administrative Assistant
Office of the Director of Education
Andrea Bradley
(705) 748-4861, Ext. 1243
Email: abradley@pvnccdsb.on.ca
Records and Information Management Coordinator
Nancy Massie
(705) 748-4691, Ext. 1221
Email: nmassie@pvnccdsb.on.ca