St. Paul CES community celebrates 50 years of Catholic education in Norwood
It was a true testament to the spirit of Norwood as the the St. Paul Catholic Elementary School community celebrated 50 years of Catholic education in Norwood with an anniversary ceremony on Saturday, April 29, 2023.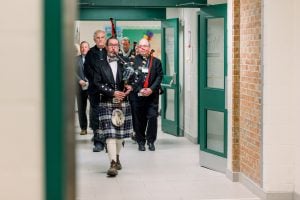 Staff, students, and community members joined together in the school's gymnasium as teacher Jonathan Berlingeri bagpiped the dignitaries for the event in through a hallway lined with school memorabilia over the last 50 years.
"We gather today to celebrate and commemorate this special occasion of 50 years of Catholic Education of our beloved St. Paul Catholic Elementary School with great joy and gratitude. For half a century, this institution has been a beacon of hope, a place of learning, and a community of faith that has impacted the lives of countless individuals, families, and generations" school principal Derek Abrams said. "What was once considered a school of portables and place of learning for just a dozen students, has now grown to a student population of just over 300 with 33 staff members."
Bishop Daniel Miehm brought greetings on behalf of the Diocese of Peterborough. Norwood Asphodel Township Mayor Pat Wilford and Norwood Asphodel Deputy Mayor Lori Burtt brought greetings on behalf of the township, while Director of Education Joan Carragher celebrated the milestone on behalf of the Board and Peterborough County Trustee Jenny Leahy,  spoke on behalf of the Board of Trustees.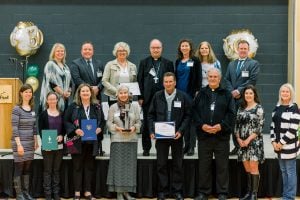 Catholic Education has existed in various forms since the early days of the township's history, when one-room schools dotted the township. By 1969, however, there were no Catholic schools left operating in the township.
So when St. Paul CES opened 50 years ago, it met a much needed demand for quality Catholic Education in Norwood that persists to this day.
St. Paul CES opened with an enrolment of 58 students housed in five portables including four for Kindergarten to Grade 6 and one for administration. Enrolment rose to 71 in year two and 96 in year three.
St. Paul CES moved out of portables and into a new brick building in 1980. The school saw a significant renovation in 2013. Over the course of the last year, the school has had new site upgrades to improve parking and traffic congestion.
"We often don't pay much attention to the brick and mortar of our daily lives. But the buildings we occupy tend to find special places in our hearts," Director of Education Joan Carragher said. "Inside these walls, generations of friendships have blossomed, generations of students have succeeded or learned from their failures, and generations of educators have dedicated their lives to this calling called Education."