St. John CES hosts first school powwow
The school yard was full of excitement and curiosity as students filed out of the building and formed a circle around the St. John Catholic Elementary School tent that shaded drummers and singers from the Chippewa Travellers. Just beyond the circle of students was something more remarkable: another circle of support, parents/guardians and grandparents. One turned to many as students looked around at the regalia worn by their fellow Indigenous classmates, parents, and siblings.
As the songs started, dancers from Hiawatha opened with a Grand Entry after a brief introduction from the emcee for the afternoon, and the Chippewa Travellers vocals rang through the neighbourhood.
"As a school with one of the highest populations of Indigenous families, this event was a huge priority for us" said principal Jennifer Wright. "It's important to show support and offer a space for our Indigenous brothers and sisters to celebrate their culture. This was such a special afternoon for our school community and I cannot wait to have the Chippewa Travellers and visitors from Hiawatha First Nation here again."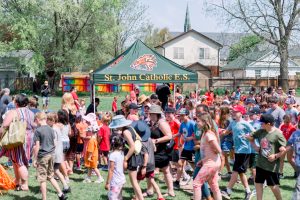 Following the traditional opening of a powwow, the emcee opened the dance circle to all who wanted to join and sing along for any veterans they knew during the veteran song. The St. John CES community joined in and expressed gratitude for such an experience in their own backyard.
"I couldn't help but feel that the staff and students of St. John CES created an opportunity that struck a chord with the community" said Indigenous Learning Consultant Michael Mooney. "This event allowed multiple generations to come together to witness the beauty of drumming, singing, dancing, regalia, and powwow experience as a whole."