Everyday Heroes: Donna Deschamps, Gerard Forster, Sarah O'Leary, Kelly Armstrong, and Tammy Rutter
Every week we celebrate PVNC staff members who have been recognized by a parent, student or colleague as an Everyday Hero. Every school and every department in our Board has an Everyday Hero who expresses their kindness, courage and love through simple, ordinary actions that uplift the lives of the people around them and the students we serve. An Everyday Hero is a caring adult, an empathetic colleague, somebody who simply makes going to work each day worthwhile.
This week we are celebrating Donna Deschamps, Gerard Forster, Sarah O'Leary, Kelly Armstrong, and Tammy Rutter.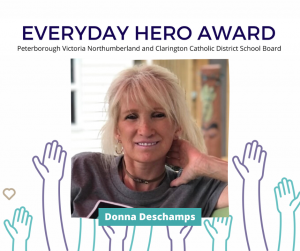 Donna is an Educational Assistant at St. Francis of Assisi CES. Donna was nominated by a colleague, who said:
"Donna wears many hats at St Francis of Assisi. She is a beautiful person inside and out. She is kind, caring, and witty. She has kept our staff and students safe during these crazy times. She deserves this recognition. Donna has played a significant role in implementing our COVID-19 protocols throughout the past two years. She has helped lead our first aid team by keeping the resources well stocked and our procedures up to date.
Donna is often quick to incorporate her passion for the culinary arts into her role of Educational Assistant. Her students love to join her in the kitchen to explore unique learning experiences."
Gerard Forster
Gerard is a SERT at St. Mary CSS. Gerard was nominated by a colleague, who said:
"While reading the description of everyday PVNCCDSB Hero, Gerard comes to mind. Gerard's energy and love of teaching shines through each day in his Learning for Living classroom. His students trust and respect him so very much. Gerard makes even the most challenging days a safe place for our students. Our students talk about how Mr. Forster makes them feel for days. The comfort felt by Gerard's students daily is a testament to the everyday learning opportunities Gerard provides his students.
Gerard makes his educational assistants feel welcomed and valued as an equal part of the LLS team. He is always open to feedback and is up for anything that has his students best interests in mind. Gerard is a coach at SMCSS and is always up for a challenge. Gerard is a hero to many, but especially his LLS students, our special education team and the many students he has coached over the years. Thank you Gerard, for ensuring each of us feel valued and supported, each and everyday!"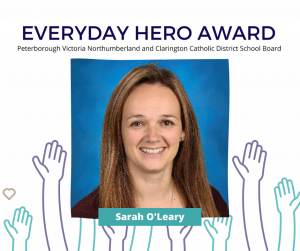 Sarah is a SERT at St. Mary CES Lindsay. Sarah was nominated by a colleague, who said:
"Sarah has been at St. Mary for a number of years and is being recognized as an everyday hero for all of the work that she does to support student wellbeing and success. She is currently the SERT at the school and often goes above and beyond on a daily basis to support both staff and students. She always has the best interests of the students at heart and works tirelessly to ensure they are given the best opportunities for success. 
Sarah volunteers to coach, and holds many leadership roles within the school. She is a much loved member of the St. Mary's team and we are so grateful for all she does for our school community! Sarah goes above and beyond on a daily basis and always has the best interests of the students at heart. She has also taken on many responsibilities outside of her normal job description, including TIC, and excels at each."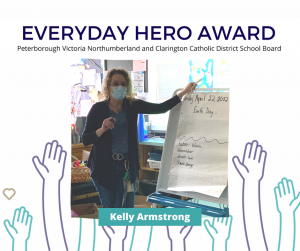 Kelly is a Teacher at St. Patrick CES. Kelly was nominated by a colleague, who said:
"Kelly Armstrong is an amazing and dedicated teacher, who plans a curriculum that is fun and engaging, and consistently goes above and beyond for the benefit of her students. Just this month, Kelly organized incubators and eggs in four classrooms. When it came time for hatching she set up the heat lamps, and living quarters, making sure to include fresh water directly from the farm! She returned to check on the chicks several times per day, including late into the evening.
Kelly is dependable and reliable, and more than that she truly cares about people! As part of a faith day activity, Kelly took the time to send personalized messages to all the staff, including photos of them that she had taken. Kelly also provides regular videos to include in our virtual assemblies. She fosters school spirit in so many ways, always building people up and offering a helping hand. For all these reasons and so many more, Kelly Armstrong should be recognized as an everyday hero!"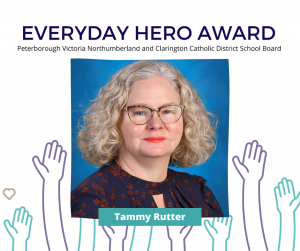 Tammy is a Principal at St. Mary Lindsay CES and St. John Paul II CES. Tammy was nominated by a colleague, who said:
"Tammy is the epitome of grace, kindness, compassion and generosity. Tammy is always willing to listen, support and offer words of wisdom and encouragement. It seems like she almost instinctively knows how to build a person up when they are feeling down. 
Tammy is a dedicated principal and member of the PVNC community. She leads two elementary schools and is the chair of the PVNC CPCO. Tammy models emotional intelligence in her dealings with students, staff and parents. I have been blessed to have worked with Tammy; she is an amazing mentor and friend."
We would like to thank Donna, Gerard, Sarah, Kelly, and Tammy for their commitment to creating a culture of faith, hope and love to ensure equity and well-being at our board.