Everyday Heroes: Geoff McKinley, Michelle Heffernan, Angie Cameron, and Sonja Bier
Every week we celebrate PVNC staff members who have been recognized by a parent, student or colleague as an Everyday Hero. Every school and every department in our Board has an Everyday Hero who expresses their kindness, courage and love through simple, ordinary actions that uplift the lives of the people around them and the students we serve. An Everyday Hero is a caring adult, an empathetic colleague, somebody who simply makes going to work each day worthwhile.
This week we are celebrating Geoff McKinley, Michelle Heffernan, Angie Cameron, and Sonja Bier.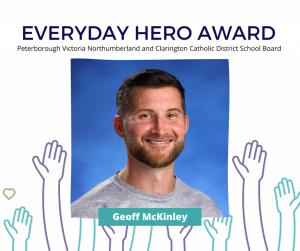 Geoff is a Teacher at Holy Cross CSS. Geoff was nominated by a colleague, who said:
"Geoff is the curriculum chair of physical education and athletics. A big part of our SHSM SEAL program, he spends endless hours before and after school devoted to extracurricular activities coaching football, girls basketball, boys basketball, and boys field lacrosse. Geoff is a constant steady support for students and staff, greets everyone with a smile, and works hard to bring students to their full potential.
Geoff literally saved someone's life last week when he performed the Heimlich maneuver on a staff member who was choking. Geoff sprung into action and performed the act without hesitation, or need for recognition. He is a true hero."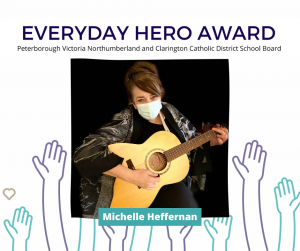 Michelle is a Guidance Teacher in the Student Success classroom at St. Stephen CSS. Michelle was nominated by a colleague, who said:
"Michelle works tirelessly to support our at-risk students. She provides a safe place for them to chat, complete school work and receive necessary support so that they can experience success on every level. She creates a very warm and safe environment, particularly for students living with mental health issues.She instinctively knows what a young person needs in the moment, whether that is to talk, sit quietly, work on an assignment or have a snack. Many of our students throughout the years would not have been able to attend school or graduate if it were not for the tireless efforts of Michelle.
Staff also gravitate to her room, taking a chance to process student concerns and receive personal encouragement. I am so grateful for Michelle and the kindness and love that she brings to our building."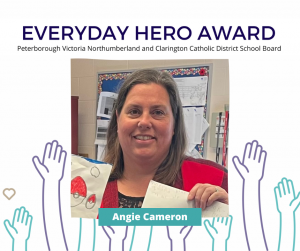 Angie is the Secretary at St. Dominic CES. Angie was nominated by a colleague, who said:
"Angie is an amazingly well-organized, knowledgeable and hard working office administrator.  She supports our staff and students in so many ways that go above and beyond her job description. For example, Angie is the sole organizer of our yearly "Be an Angel" program for the St. Vincent De Paul. Angie does our daily announcements and her amazing sense of humour and thirst for knowledge shine through as she highlights fun facts, funny words and riddles. As the only secretary in a school of 350+ she does this all while handling the very busy comings and goings of our school. Angie also runs the milk program, assists with school lunches, as well as our popcorn fundraiser.  She shares her sign language talent with classes and contributes in many, many innumerable ways.
Angie is truly my everyday hero as well as that of everyone at our school. St. Dominic is a great place and she is a huge part of that."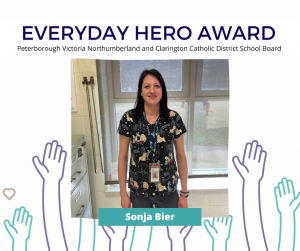 Sonja is the Custodian at Monsignor Leo Cleary. Sonja was nominated by a colleague, who said:
"Sonja is a custodian at our amazing little school in Courtice. It's staff like Sonja that make our school so inviting and warm. She has a big, beautiful heart, and in her relatively short time with us at Monsignor Leo Cleary she has quickly found a place in each student's heart. 
Sonja makes an extra effort to get to know the students. Whether it be through conversations or a quick fist pump in the hallway, she always engages the students and makes them feel important and cared for. She even leaves special birthday surprise bags on the student's desks.  What an incredible gesture! A parent emailed our principal back in the fall to praise Sonja for making her daughter so happy. She explained just how much the birthday gift meant to her daughter who had a summer birthday that was usually celebrated on the final chaotic day of school. Sonja had decided that summer birthday's should be celebrated in September. Her daughter was beaming because she felt so special!
For these reasons and more, she is an everyday hero at MLC!"
We would like to thank Geoff, Michelle, Angie, and Sonja for their commitment to creating a culture of faith, hope and love to ensure equity and well-being at our board.