Everyday Heroes: Karen Woodcox, Carolyn Farrell, and Glenn Austin
Every week we celebrate PVNC staff members who have been recognized by a parent, student or colleague as an Everyday Hero. Every school and every department in our Board has an Everyday Hero who expresses their kindness, courage and love through simple, ordinary actions that uplift the lives of the people around them and the students we serve. An Everyday Hero is a caring adult, an empathetic colleague, somebody who simply makes going to work each day worthwhile.
This week we are celebrating Karen Woodcox, Carolyn Farrell, and Glenn Austin.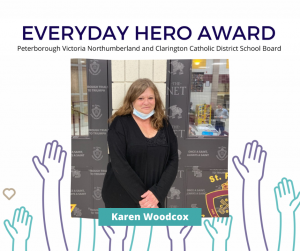 Karen is the Secretary at St. Peter CSS. Karen was nominated by a colleague, who said:
"Karen truly cares for the students that she encounters every day. She has compassion, empathy and a smile for everyone who enters the office. She cares for the feelings of her colleagues and does her best to help everyone. Karen is a joy to work with, makes all those around her laugh and her sense of humour is infectious."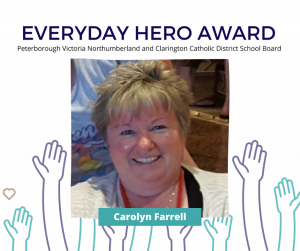 Carolyn Farrell is the Supervisor of Learning Technology at the CEC. Carolyn was nominated by a colleague who said:
"Carolyn is ALWAYS helpful! She never gets frustrated when we call for help and she patiently walks us through every new tech process (over and over if we need it). She is solution focused and understands the barriers to be overcome. Carolyn smiles through every conversation and exudes joy. On one recent Friday evening I contacted her in a panic when I learned that my auto dialer message had failed to reach its intended audience. Carolyn walked me through a number of screens from her car, so that we could identify the problem. Once she arrived home she logged on and worked for an hour to manually ensure the message would be delivered."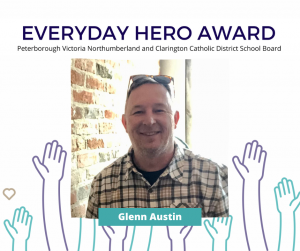 Glenn Austin is an Educational Assistant at Monsignor Leo Cleary. Glenn was nominated by a colleague who said:
"It's 9:25 am on a Friday morning at Monsignor Leo Cleary. Kids and staff alike are waiting in anticipation because something very special is about to happen. It's time for Glenn to tell his Friday jokes and laughter will soon be bursting out of the office and classroom doors.
Glenn is cherished not only for his great sense of humour but also for his commitment to the students at MLC He demonstrates great patience and kindness while working alongside some of our most vulnerable students, and he helps foster a community where students feel valued and safe. He is also a talented artist and he enriches the school community by sharing this gift by teaching the students how to do step-by-step drawings and leaving drawings on classroom blackboards.
Glenn is an incredibly caring individual. This is best exemplified during online learning when he drove with his son and personally delivered beautiful watercolour paintings of birds to many colleagues. This was an incredibly thoughtful gesture which certainly lifted our spirits during difficult times away from school."
We would like to thank Karen, Carolyn, and Glenn for their commitment to creating a culture of faith, hope and love to ensure equity and well-being at our board.