The 'Saints' and 'Canes' move for a cure during 'Holy Bowl' in Peterborough 
Oct. 12, 2023
Students from St. Peter and Holy Cross Catholic secondary schools combined on Thursday, Oct. 12, 2023 to raise money for cancer research in honour of Terry Fox.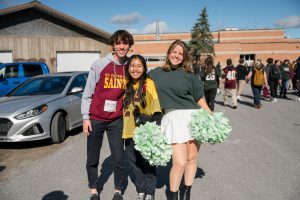 Dressed in their own school colours, the students met in the west end of Peterborough and walked a route around the neighborhood to join the 'Holy Bowl' festivities waiting for them on the St. Peter CSS field.
Both schools held a previous kick off event separately and St. Peter CSS welcomed Grade 11 student Neave Alderson to present during the opening ceremony. Diagnosed with Ewing Sarcoma at the age of eight, Alderson attributes new treatment methods available to children with cancer to fundraising events like this. "I had the same treatments as [Terry Fox] many years later and because of this fundraising, doctors are able to develop new treatments with little to no side effects," she said. "I am excited that a lot of people will see this event and it hopefully will lead to more fundraising and overall awareness."
Following the 3 km walk, students were welcomed into the St. Peter CSS field with an alumni band, food, and football games which showcased both old and new faces.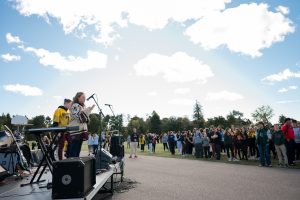 "It is so great that each year both of our Peterborough secondary schools are able to get together to celebrate and fundraise for such an important initiative," said St. Peter CSS principal Shannon Brady. "Alternating between both St. Peter CSS and Holy Cross CSS, we are able to keep the spirit alive and increase the sense of community amongst our students."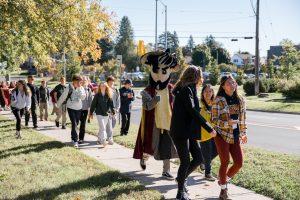 During the 2022-2023 school year, both schools ranked among the top Terry Fox fundraisers in Ontario.