Students at St. Joseph CES Bowmanville participate in Walk for Wenjack during Secret Path Week
Oct. 17, 2023
Students at St. Joseph Catholic Elementary school in Bowmanville put shoes to pavement on Tuesday, Oct. 17, 2023 as they walked a combined 600 km for the Walk for Wenjack during Secret Path Week.
Spearheaded by teacher Kendal Daize, her Grade 8 students began their reconciliation process on National Day for Truth and Reconciliation with Gord Downie's "The Secret Path" as part of their media literacy unit. From there, students learned about and reflected on Chanie Wenjack and his journey. 
"The final piece, as part of the reconciliation process, required students to participate in an action item to further develop their reflection of Chanie Wenjack," said Daize. "ReconciliACTION, or a meaningful action, is a term used to describe this, and was brought up, so we put the call out to the entire school to participate in the Walk for Wenjack."
To encourage community, all Grade 8 students walked with Kindergarten students along the route.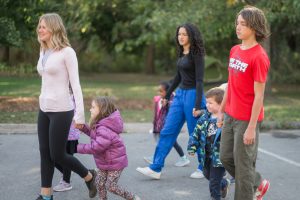 The Walk for Wenjack is a grassroots event that started in 2016. The first walk retraced the steps of Chanie Wenjack, starting at the Cecilia Jeffrey Indian Residential School in Kenora, ON, and continued to Redditt, ON for a ceremony representing Chanie's final resting spot near Farlane, ON.  Since then, Walk for Wenjack has provided Indigenous and non-Indigenous people in Canada with the opportunity to participate in Secret Path Week in a meaningful way. October 17th and 22nd respectively mark the dates that Gord Downie and Chanie Wenjack joined the spirit world.
"Students are far more aware of the importance of truth and reconciliation and are very empathetic of  victims' experiences with residential schools," reflects principal Lisa Heitzner. "The response from students to events like this give me hope as an educator for the future of reconciliation."
Across the Board, schools will be participating in the Walk for Wenjack for Secret Path Week on the path to Truth and Reconciliation.