St. Thomas Aquinas CSS student wins national scholarships for post-secondary journey
St. Thomas Aquinas CSS student wins national scholarships for post-secondary journey
June 2, 2023
St. Thomas Aquinas Catholic Secondary school student Siobhán Marie has secured multiple national scholarships for her post-secondary education at Queen's University in the fall and has her eyes set on giving back to the community who shaped her.
The outgoing PVNC Catholic senior student trustee has been recognized for her community leadership and passion for helping others. 
In May,  Marie was awarded the prestigious Terry Fox humanitarian award offered to only 15 graduates across the country each year. Then, in June,  she was named as a TD Scholarship for Community Leadership recipient,  awarded to only a maximum of  20 graduates per year. Topping that off, she earned the Student Trustee Alumni Leadership Award from the Ontario Student Trustees Association and Queen's University's Chancellor's Scholarship.
"My community has shaped me into who I am today, and I couldn't be where I am today without them standing by my side," she said. "I view giving back to my community as not only a privilege but an opportunity to pay it forward in recognition of what my community has done for me, and I am incredibly honoured to be recognized for the work I have done."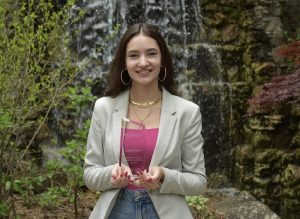 The Terry Fox Award recognizes students who embody Terry Fox's humanitarian ideals by actively volunteering and making significant contributions to their communities. It offers university scholarships of up to $28,000 to support their educational pursuits.
The TD scholarship is committed to helping create the conditions where everyone has a chance to succeed in a changing world. The TD Scholarships for Community Leadership are awarded to students who are helping to support change, nurture progress and contribute to making the world a better place. Recipients receive up to $70,000 for tuition and living expenses as well as opportunities for paid summer employment.
Drawing from her experience of living with Lyme disease, Marie initiated the Stepping Stones program, a holistic wellness initiative aimed at promoting physical well-being, substance use prevention, and mental wellness among marginalized groups. She has also extended her support to families in need by facilitating grant-funded recreational activities such as contributing to local breakfast programs as well as community swims. In the future, Marie hopes to turn Stepping Stones into a registered non-profit organization.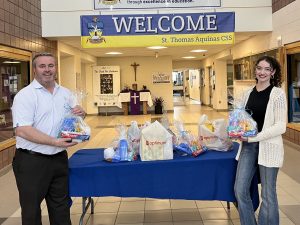 Not stopping there, Marie recalls her most impactful leadership experience was her contributions in founding the "Indigenous Literacy Revitalization" project for St. Thomas Aquinas CSS and neighbouring schools within the board. Noticing students faced barriers in accessing modern Indigenous literature, she advocated for funds through the Taking it Global grant initiative to purchase literature for classrooms and further address the Truth and Reconciliation Commission of Canada's 63rd Call to Action of building student capacity for intercultural understanding, empathy, and respect. 
Marie is a familiar face at the Catholic Education Centre as she has served as a student trustee for the Board, advocating for the interests of more than 15,000 students. In this role, she actively participates in public meetings, engages in discussions with other trustees, and provides valuable reports and initiative ideas to the Board of Trustees.
Through her advocacy work with the Ontario Student Trustees' Association, Marie played a pivotal role in effecting systemic change at the provincial level, securing a three-year grant for free menstrual products. In recognition of her remarkable efforts, she was appointed as the policy coordinator on the executive council of the Ontario Student Trustee Association for the 2022-23 school year. Furthermore, she has dedicated her time to volunteering extensively in the special education resource department at St. Dominic Catholic Elementary School, promoting educational inclusivity.
"I am eternally grateful to the outstanding people and communities who have supported me in my leadership journey and humanitarian efforts," reflected Marie. "My dedicated teachers and principals, the incredible Board of Trustees, superintendents, and our amazing Director of Education, Mrs. (Joan) Carragher, my fellow student trustees at OSTA-AECO, and of course, my parents and sisters." 
In spite of her remarkable involvement in extracurricular activities, Siobhán has consistently maintained an exceptional academic record, boasting an impressive average of 98.4% throughout Grades 11 and 12. With ambitious aspirations, she intends to embark on a concurrent education program at Queen's University starting this fall, with a hope to focus on Indigenous education, driven by her desire to advance her humanitarian endeavours.
In terms of her professional career, Marie has been hired as the first-ever Chief Operating Officer at the Ontario Student Trustees Association. In this role, she will be using her experience and expertise as a student representative to equip student trustees across Ontario with the skills and resources necessary to excel in their role. Marie notes she is especially excited to step into this position to gain experience in and continue to contribute to non-profit management and education.