St. Alphonsus Catholic Elementary School hosts Canadian citizenship ceremony
May 25, 2023
The gymnasium of St. Alphonsus Catholic Elementary School was transformed into a court on May 25, 2023, during the Rotary Club of Peterborough-Kawartha's citizen reaffirmation ceremony.
Staff and students (grades 4 to 8) were invited to reaffirm their loyalty and commitment to Canada at the ceremony overseen by retired Justice Alan Ingram.
Ingram was marched in by an RCMP officer after the colour party of the Royal Canadian Legion Branch 52 was piped in by Rose Post.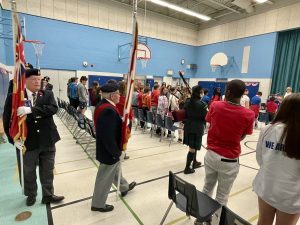 Ingram spoke about his pride in Canada, pointing out its beautiful landscape and many of the great inventions created here.
Peterborough Kawartha MP Michelle Ferreri and Peterborough Mayor Jeff Leal brought greetings.
Ferreri told students she was privileged to take part in her first reaffirmation ceremony alongside the students. Leal spoke about the importance of the democratic process and encouraged the students to become engaged citizens who may one day become political leaders in their own community and abroad.
In her opening remarks, Director of Education Joan Carragher spoke about the important role our schools play as a symbol of citizenship and that our Catholic Graduate Expectations call on our students to become responsible citizens.
"Our schools are such an important symbol of Canadian citizenship. It is here where our children learn about the important sacrifices of those who have come before us and where we come to understand and celebrate our great Canadian heroes and heritage," Carragher said.
"For families seeking refuge or immigration to Canada, we know that our schools are beacons of opportunity. Filling out a school registration form is often the first step families take when relocating to Canada and the school community becomes an integral part of their new Canadian story."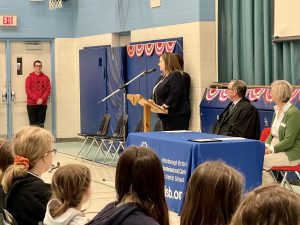 The Rotary Club of Peterborough-Kawartha has been hosting citizen reaffirmation ceremonies at local schools for 20 years. Each year a ceremony is hosted at one Catholic and one public school in the spring. The ceremony is a re-enactment of a true Citizenship Court whereby Canadian students and staff reaffirm their loyalty and commitment to Canada. Each student is also provided with a certificate.