PVNC mathletes compete in first-ever virtual Math Olympics
June 22, 2021,
By Sandra Connolly, Student Achievement Consultant
Since 2008, school teams from across PVNC have come together in the spring to compete in the Math Olympics, a hands-on problem solving event. This year, remote learning meant we couldn't compete in person, but we were able to compete virtually, and we were even able to accomplish some things that we could not have done in person.
Thirty-seven classes from Grades 3 to 8 signed up to participate in the events in the Grade 3/4 division, the Junior Division (Grades 5 and 6) or the Intermediate Division (Grades 7 and 8). The in-person event takes place on a single day for each division, but this year classes had three weeks to gather and submit their work.
We started off with a scavenger hunt where students had to come up with an item for up to sixteen curriculum-related categories such as a growing or shrinking pattern.  There were very creative answers using items from home such as tomatoes and coffee pods.
Most students' favourite event was the "Game of SET."  After learning how to play the game and what makes a set, each day, students played online and submitted their times via a Google Form which allowed us to collect a lot of data, over 1,200 entries!
We posed and answered questions about the data. Which grade submitted the most entries?  The Grade 5s.  Did our average time to find all of the sets get faster as we learned more about strategy?  Our classes analyzed graphs such as the one below to make and justify a conclusion.  Do you think you can beat our average times?  Try the game for yourself.  Your student can teach you how to play.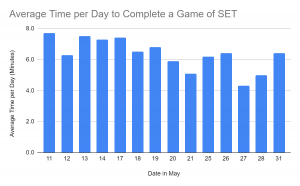 We wrapped up the Math Olympics by having several classes play against each other in a Math-based Kahoot, an online trivia-type game, just for fun.  It was great for us all to be able to interact and show off our Math knowledge.
The classes worked hard over the duration of the Math Olympics and came up with creative scavenger hunt answers, thorough responses to Math problems and an appreciation of the "Game of SET."
This year's winners are:
Grade 3/4:  Ms. Skan's class from St. Mary, Grafton CES

Junior:  Mr. Champagne's class from Immaculate Conception CES, Ms. McCarthy's class from Good Shepherd CES, Ms. Walchuk's class from St. Mother Teresa CES

Intermediate:  Ms. Landry's class from St. Joseph CES, Cobourg, Ms. Richardson's class from St. Thomas Aquinas Catholic Virtual School and Mr. Morin's class from St. Mary CES, Grafton