PVNC Inspires: Katie's Journey in Resilience and Faith
Wheeling through the halls of St. Stephen Catholic Secondary School, one would not assume the journey Katie Girard has gone through. Met with "Hi Katie!" "Hey, Katie how are you?" from almost every student passing by, it's clear the impact this 18-year-old has made is a strong one. 
Earlier this month, Katie had the opportunity to share her story with her classmates about her healing journey and the challenges she has had to overcome in her recovery from a major life-threatening illness. 
As her teacher Kathy O'Brien shared in a Tweet, Katie's story is one of "resilience, healing and faith." While her classmates were focused on the final year of high school, Katie has had to learn how to once again, eat, talk, and walk over the course of this school year.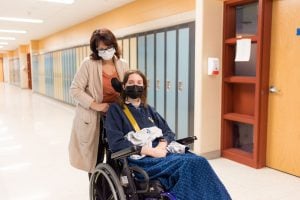 "For me personally, she's a warrior," said Katie's Educational Assistant Colette Secord, who added that Katie's motivation to get back into school has been an inspiration to students, staff, and the school community. "She was told she was likely to rely on a feeding tube for the rest of her life, and never get out of her wheelchair. She said, 'You tell me I can't do it? Watch me.'"
According to her family, friends and educators, Katie has always been a go-getter who went above and beyond in every aspect of life. Whether it was delivering the best performance she could as the White Rabbit in Alice in Wonderland, skiing at every chance she could get, or just being an exceptional student, there were no limits to what she could accomplish.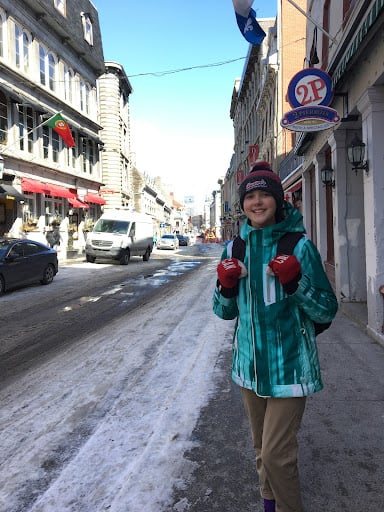 In her Grade 9 year, Katie was diagnosed with a life-altering condition, an arteriovenous malformation (AVM). AVMs happen when a group of blood vessels in your body forms incorrectly. In these malformations, arteries and veins are unusually tangled and form direct connections, bypassing normal tissues.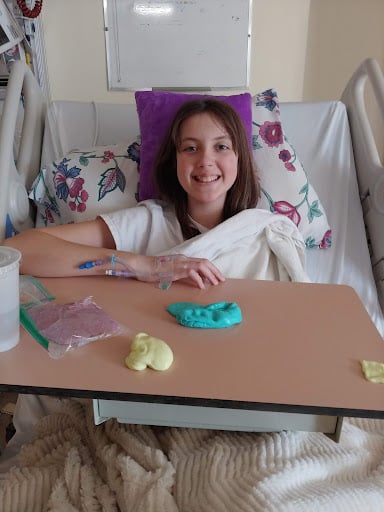 Undergoing treatment over a few years, getting through the COVID quarantine blues as classes went virtual, the road to recovery was looking bright as Katie was excited to enter the summer before her final high school year. 
In August of 2020, a nightmare became reality. Katie's AVM had taken a turn for the worse and ruptured. Airlifted to Sick Kids, doctors worked tirelessly to save her through multiple strokes, aneurysms and meningitis. Keeping the faith, the community surrounded Katie in prayers as her recovery looked bleak. Her family, sisters Sophie (a PVNC teacher) and Jacquie, mother, Bridget, and father, Michael, stayed by her side throughout offering support and encouragement.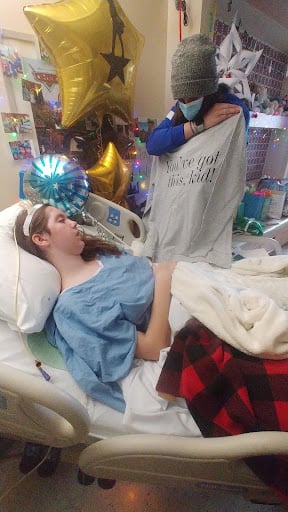 Almost a year later, against all the predictions of her medical teams at Sick Kids and Holland Bloorview Kids Rehabilitation Hospital, where she spent six months in recovery, Katie joined her classmates at what would have been her graduation ceremony.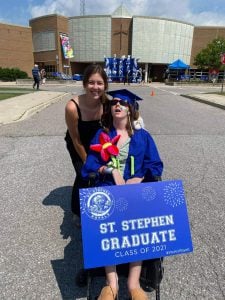 "The tremendous spirit and positivity of the St. Stephen community have been a big part of her recovery," said her mother Bridget, who is also a PVNC principal.  "Her motivation to return to school and rejoin her community really inspired us, and we knew she could do it. Being back at home really contributed to her healing journey."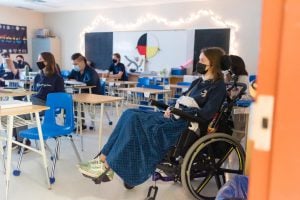 Katie returned to school in the fall with some major obstacles still to overcome, including the inability to speak, eat, or walk on her own. Her determination shone through as she quickly left the special education classroom and rejoined classmates in regular coursework. Developing her speech, having her feeding tube removed, as well as taking her first steps on her own were all milestones that happened within a very short time. 
"On December 17th I was able to take my first steps unassisted," Katie reflected. "This was a huge milestone for me. I had a goal to walk ever since I was put in a wheelchair. After being unable to control my body for so long it felt liberating to be able to walk again. All the hard work that I was putting into my physiotherapy was finally paying off. My journey is far from done but I am grateful to have made it this far."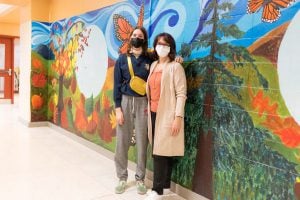 Having the pleasure of teaching Katie in Grade 11, teacher Kathy O'Brien wasn't surprised that she has come so far.
"Together in her Grade 11 year, Katie was exactly the way she is now. Over and above all expectations," said Kathy. "She is always engaged and determined with a drive. Seeing the changes that she has made since Halloween to when she joined my class at the beginning of February, I was amazed at the strides she made, including the ability to present her story." 
My sweet student Katie shared her incredible story today. A story of resilience, healing, & faith. Katie suffered a bleed from an #AVM and then contracted #meningitis. She has, once again, learned to eat, talk, and walk. She is strength.@StStephenRoyal @PVNCCDSB @JeannieArmstr20 pic.twitter.com/FGZODdcCKV

— Mrs. OB (@mrsob_) February 12, 2022
"If I can give any advice, know that there is always someone going through difficult times," says Katie. "Reach out to people for support and reach out to people who might need a hand, a kind word or help. When I was so sick, I certainly needed that helping hand."