Introducing the Everyday Hero Award, a NEW Staff Recognition Program
Every school and every department in our Board has an Everyday Hero who expresses their kindness, courage and love through simple, ordinary actions that uplift the lives of the people around them and the students we serve. An Everyday Hero is a caring adult, an empathetic colleague, somebody who simply makes going to work each day worthwhile.
Most of these individuals would not recognize themselves for the acts of selflessness they pursue. Heroes come in all shapes and sizes, and are found everywhere.
Here at PVNC, we know there are Everyday Heroes in our schools and board offices and we want to recognize them.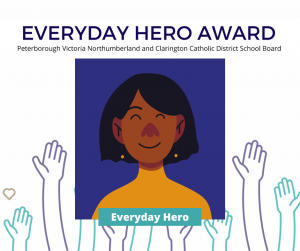 We want to know, who inspires you? Nominate a colleague today for a PVNC Everyday Hero Award. We will be celebrating our Everyday Heroes regularly throughout the school year.
Note, you must use your board-issued email to access the form.