Holy Trinity drama returns to stage with Dracula, a scripted reading
After two years of an empty stage, Holy Trinity CSS (HT) is pleased to present a scripted reading of an adaptation of Bram Stoker's classic horror novel, "Dracula" on Thursday May 5th at 7pm.
Due to earlier COVID restrictions, mounting a show with limited rehearsals became increasingly difficult. However there is no stopping a Titan. "We needed to do this. We needed to get back on stage and a live reading can be just as entertaining", says Liz Rennie, Drama Teacher at HT.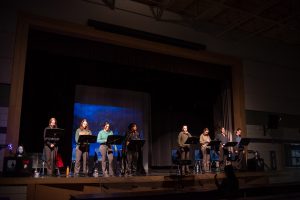 "We had to figure out how to put on an entertaining play consisting of no exits, entrances, props, sets and costumes. I had performed scripted reading in the past with the Northumberland Players, and knew the reading could still be entertaining. In addition, we have added a video backdrop to add to the eeriness of this timeless story."
The show is running for one night only, Thursday May 5th at 7:00pm at Holy Trinity Catholic Secondary School, 2260 Courtice Road, Courtice. Tickets are available at the door. $10 per person, $5 for seniors.
Come on out and enjoy the live experience of "Dracula". For more information, please contact Liz Rennie at 905 404-9349 or erennie@pvnccdsb.on.ca