Everyday Heroes: Jenn Clapp, Anne-Marie Condon, Natalie Bittner, Nicole Matthews, Jonathan Berlingeri
Every week we celebrate PVNC staff members who have been recognized by a parent, student or colleague as an Everyday Hero. Every school and every department in our Board has an Everyday Hero who expresses their kindness, courage and love through simple, ordinary actions that uplift the lives of the people around them and the students we serve. An Everyday Hero is a caring adult, an empathetic colleague, somebody who simply makes going to work each day worthwhile.
This week we are celebrating Jenn Clapp, Anne Marie Condon, Natalie Bittner, Nicole Matthews, Jonathan Berlingeri.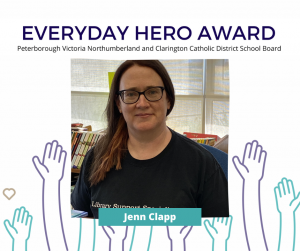 Jenn is the Learning Commons Specialist at St. Mother Teresa CES. Jenn was nominated by and celebrated by multiple colleagues, who said:
"Jen shows leadership and dedication.She has earned so much respect towards staff and students. She has demonstrated so much creativity and goes far and beyond her duties.
Jenn goes above and beyond making the learning commons a special place for everyone to feel like they belong.
Jenn always helps with computer, Smartboard, or laptop issues, and if she can't help she will find a contact who can.
Jenn makes not only reading and books fun, but the whole Library experience an enjoyable place to be (games club, dry erase tables, Lego wall, etc).
During Covid and online learning, she did all she could to help teachers, students and parents to get online, and iron out any log in issues, and share "How To" videos. She made herself available any time of the day to help.
Jenn can always be counted on to help in any way that is needed, not just for staff but for all students. She has a unique ability to engage students in problem solving and pushing past any barriers. Jenn is compassionate and supports many students that are experiencing difficulties in their school day by listening to them and being that trusted adult.
Jenn's creativity knows no limits. Just enter her learning commons and you will see exciting projects going on. She also runs games clubs that engage the students at lunch times.
Jenn is fun. Jenn is engaging. Jenn makes you feel important. Jenn is alright!
Jen made me feel so welcomed at my new school. She readily helps with links to resources and assists me right away with tech issues. Our Kinders are so blessed with her creativity. We love her stories and fun follow up activities! She even had centres for days of creativity and exploration! Best Learning Common Specialist I ever met! We are blessed to have her! ❤️
Jen is authentic in her interaction with staff and students. She is always straightforward and honest. She exemplifies what it means to be a life-long learner. The learning commons and STM is a better place because of her.
Jenn goes above and beyond – no matter what.  She is not just a Learning Commons Specialist – she does so much more!
Jenn has transformed the library into more than finding a book, she has created an atmosphere of exploration and adventure for our students. Jenn has a kind heart and makes connections with all of our students through her passion for reading. She is a great educator and a great friend to all. We are truly blessed to have her. 
Jenn is way more than a learning commons specialist! She always goes above and beyond to ensure that the students are excited to go to the learning commons. She has the kindest heart and is willing to take anything on to help others. We just love her so much!!"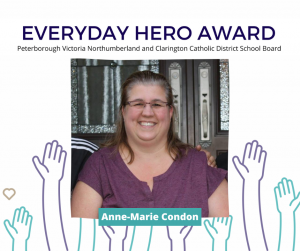 Anne-Marie is a Teacher at St. Patrick CES. Anne-Marie was nominated by a colleague, who said:
"Anne-Marie has been an unsung hero of St. Patrick's school for 20 years (give or take). She has raised countless dollars for Terry Fox, Jump Rope for Heart, Cops for Cancer and a few other causes. She is always behind every Fundraiser that St. Patrick's has. Whether it is the yearly Fun Fair, food drives, cookie drives, frozen pizza drives and danceathons, you can be sure she is leading. She has run the breakfast program for many years not only ensuring each class has access to healthy food but she often goes out and buys the groceries herself. She often bakes banana bread or salsa for any staff going through a personal issue and she never misses acknowledging a staff birthday with balloons and something yummy.  I'm sure I am forgetting so many more things that she has done quietly and without acknowledgement. She is truly a kind, wonderful, helpful and considerate unsung hero."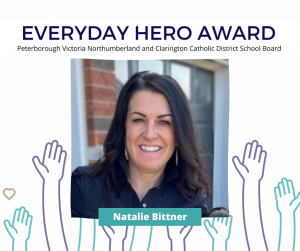 Natalie is the Principal at St. Paul Peterborough CES. Natalie was nominated by a colleague, who said:
"Natalie Bittner has put her heart and soul into making St. Paul's a well oiled machine! Every problem that arises, she finds a solution with a smile on her face. She is easy to talk to and forms relationships with staff and students alike. She ensures that her staff feel supported and her students feel loved and welcome. She has peaked student interest and created a feeling of community by running and supporting clubs/sports/intramurals in the school. She has made a positive difference and we are grateful to have had her join our school! You are an everyday hero, Mrs. Bittner!
As a parent I am nominating Nat (although I could nominate her as a co-worker as well – she would deserve it either way). She is an exceptionally optimistic, warm, and caring person. She has taken the time to really connect with my children and understand each child's unique personality. My daughter has some struggles with following directions that she is always working out and Nat has implemented a rewards plan for her which has shown huge improvement. Nat is always patient, kind and understanding and truly brings out the best in people."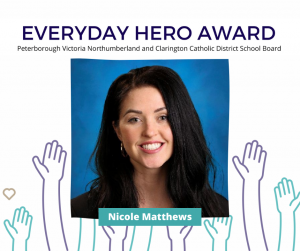 Nicole is the Vice-Principal at Holy Family CES. Nicole was nominated by a colleague, who said:
"Nicole is always smiling, she goes above and beyond to show her appreciation to staff members from putting a little chocolate in everyone's mailbox to setting up a "gratitude cafe". She works tirelessly each and every day and in such a large school we know she is spread very thin but Nicole never complains and always does her best. She works hard to let staff know she supports us, she is easy to talk to and both staff and students appreciate and look up to her. I am nominating her because I want her to know how much she is appreciated at Holy Family."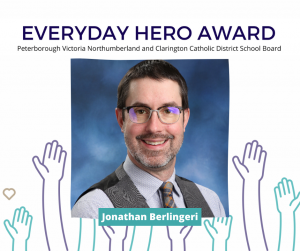 Jonathan is the core French Teacher at St. Joseph Douro CES. Jonathan was nominated by a colleague, who said:
"Jonathan Berlingeri is a collaborative team player who constantly works to better the entire school community. His positive influence is felt within the classroom and his excitement towards student learning is contagious. In staff meetings and through encounters in the hallways, his calm demeanor and reflective attitude encourage his colleagues to strive to prioritize student learning. 
Jonathan leads by example and he regularly shares new innovative teaching ideas. His flexibility with scheduling and his ability to adapt during these challenging days in elementary school has elevated the spirit of St Joseph Douro. He lives his faith, and he treats those he encounters with dignity and respect. Jonathan's sense of humor and witty puns leave everyone better off after a conversation with him. In short, he has tremendous savoir-faire."
We would like to thank Jenn, Anne-Marie, Natalie, Nicole, and Jonathan for their commitment to creating a culture of faith, hope and love to ensure equity and well-being at our board.