Everyday Heroes: Samantha Nelson, Rhonda Stoltz, Glenna Birkhof, Catherine Flynn, and Serena McKenna
Every week we celebrate PVNC staff members who have been recognized by a parent, student or colleague as an Everyday Hero. Every school and every department in our Board has an Everyday Hero who expresses their kindness, courage and love through simple, ordinary actions that uplift the lives of the people around them and the students we serve. An Everyday Hero is a caring adult, an empathetic colleague, somebody who simply makes going to work each day worthwhile.
This week we are celebrating Samantha Nelson, Rhonda Stoltz, Glenna Birkhof, Catherine Flynn, and Serena McKenna.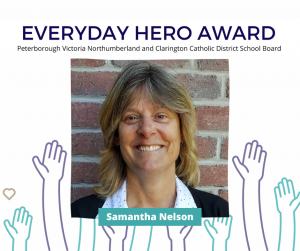 Samantha is the Supervisor of Corporate Systems with IT at the CEC. Samantha was nominated by a colleague, who said:
"I can't say enough about Sam. I am constantly going to her for her expertise and support. She is always friendly, positive and happy to help out. She took the time to create a special excel sheet for me that has formulas I didn't even know were possible. This is definitely not part of her job but she went out of her way to do it anyways, which now saves me hours of work. Her kindness and competency makes her invaluable to the Board.
Samantha is an extraordinarily hard worker and is always ready to lend a hand.  The last year has presented many challenges and Samantha has met them head on with a positive attitude.  She is a highly valued member of the IT team who has also lent her incredible expertise to provincial organizations including the Ontario Educational Cooperative Marketplace and the Ontario Association of School Business Officials. Congratulations Samantha on this well deserved award."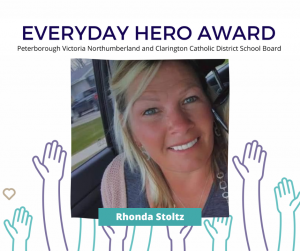 Rhonda is an EA at the St. Mary Campbellford. Rhonda was nominated by a colleague, who said:
"Rhonda has a unique gift for forging connections with those she works with, expressing care and concern for the students she works with and the staff who have the opportunity to work with her. She will always jump in to lend a helping hand and can find joy in any situation.
Rhonda is hard working, and will help anyone in a minute. Rhonda is a team player and goes above and beyond of the students at this school. She is always there to lend a hand and an ear to coworkers and students. She is always trying to help and support all."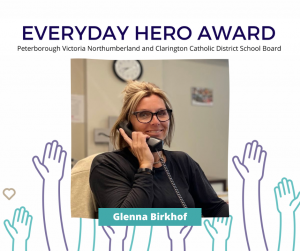 Glenna is the Secretary for the CEC. Glenna was nominated by a colleague, who said:
"I would like to nominate Glenna Birkhof for the everyday hero award because Glenna goes above and beyond every day, mostly unnoticed and unrecognized. She is quick to step up for late day requests, and cheerfully deals with numerous issues affecting staff, parents and administrators. Glenna's organizational skills keep the CEC running efficiently and her positive attitude spills over to everyone who meets her.
Glenna is constantly demonstrating compassion, joy, and certainly affection towards our PVNC community. She is an amazing first introduction to the CEC at the Front Desk."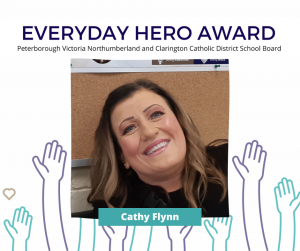 Cathy is a student monitor at St. Francis of Assisi CES. Cathy was nominated by a colleague, who said:
"Cathy Flynn is a student monitor, who makes herself available each and every day to help us take great care of students at St. Francis CES. She is selfless, kind, sincere, humble, and hardworking. Without complaint, she arrives each day and quietly asks where she is needed. She accepts whatever position/schedule she is assigned and regularly asks if there is anything more she can do to help. The students love her because she is so kind to them. When Cathy is not working as a Student Monitor in our school, she volunteers as a member of our Nutrition Team which supports all students in our community. 
Cathy Flynn is an indispensable member of our St. Francis community who models all of the Catholic Virtues and she is definitely one of our everyday heroes."
Serena is the Languages Department Head at Holy Cross CSS. Serena was nominated by a colleague, who said:
"Serena is the Curriculum Chair of the Languages Department at Holy Cross; a title that does not begin to adequately reflect the depth of her knowledge, the strength of her character, and the compassion of her deeds. Serena epitomizes grace in all that she does, and she instills faith and confidence in others. She has tirelessly supported the staff with OSSLT planning, Drama productions, FNMI initiatives, and the development of numerous curriculum resources. Serena embraces and advocates for diversity. She never looks for recognition, but rather seeks ways to serve.  It is a true blessing to know Serena because she is a remarkable Christian leader."
We would like to thank Samantha, Rhonda, Glenna, Cathy, and Serena for their commitment to creating a culture of faith, hope and love to ensure equity and well-being at our board.