Everyday Heroes: Lisa Dick, Kristin Hanley, Lorna Lamers, Kayla Laviolette, Dana King, Father Paul Massel
Every week we celebrate PVNC staff members who have been recognized by a parent, student or colleague as an Everyday Hero. Every school and every department in our Board has an Everyday Hero who expresses their kindness, courage and love through simple, ordinary actions that uplift the lives of the people around them and the students we serve. An Everyday Hero is a caring adult, an empathetic colleague, somebody who simply makes going to work each day worthwhile.
This week we are celebrating Lisa Dick, Kristin Hanley, Lorna Lamers, Kayla Laviolette, Dana King, Father Paul Massel.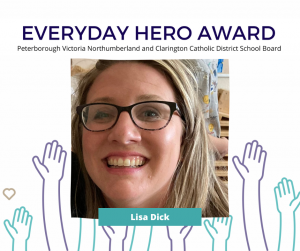 Lisa is an EA at St. Francis of Assisi CES. Lisa was nominated by a colleague, who said:
"Lisa (or Mrs. D in the classroom) has the kindest, most generous heart. She consistently goes above and beyond in and out of the classroom. Having Lisa as an EA partner is the biggest blessing I could have. On the hardest days, she knows when to step-in without being asked. She not only helps the students we support, but with a gentle loving demeanor helps the other students in our classroom achieve their full potential. Lisa is always up for a good practical joke, and her laughter is contagious."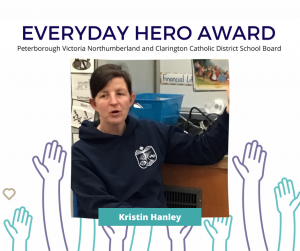 Kristin is a Teacher at Notre Dame CES. Kristin was nominated by a colleague, who said:
"Mrs. Hanley is a very motivated, dedicated and creative teacher. She involves her students in their life journey of learning. She adapts the curriculum to meet the student's level of learning. One example is "Animals at the Museum" in which the students displayed their knowledge of an animal to the school in the library using different mediums. Mrs. Hanley's energy radiates out to her students and the school community. Extra activities are well attended, students talk about the fun they have and are always waiting for the next week to meet again. She involves the grade 8 students as leaders promoting confidence and leadership skills. These skills are then utilized for lunch activities such as games, crafts and outdoor games with the younger students.  With Mrs. Hanley's guidance, these senior students organized "Spirit Week" activities and an afternoon of "fun activities" that involved the entire school. Mrs. Hanley is a wonderful example of a class, school and team leader."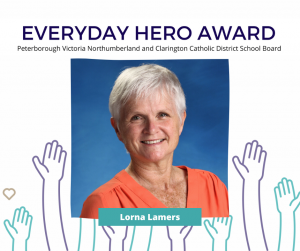 Lorna is an ASD Worker at Holy Trinity CSS. Lorna was nominated by a colleague, who said:
"Lorna Lamers is among the most outstanding educational support staff I have known. Lorna is a caring, devoted, professional member of the Holy Trinity CASA team. She always operates with student well-being and success as the foundation for her decision making and practice.  She is a strong advocate for students with special needs and she is an exceptional role model for students and staff. Lorna is a "glass half full" person with remarkable generosity. On a daily basis she goes above and beyond for students; she does whatever is required to improve their life experience at school. She is a beacon of positivity and she has a gift for bringing joy to everyone she encounters. Lorna is an HT hero."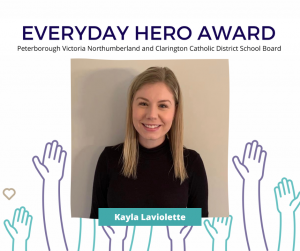 Kayla is an EA at St. Joseph Bowmanville CES. Kayla was nominated by a colleague, who said:
"Kayla is always smiling and exudes positivity. She spends most of her day dealing with our high needs students and does so with patience and grace. Her name is the most used on our walkie-talkies as EVERYONE seems to need her at some point throughout the school day. Even if not asked for specifically, she will cheerfully chime in that she is on her way to assist in whatever issue staff or a student needs help with. She is a true gem to our team, irreplaceable, and deserves recognition for her devotion to our school and students."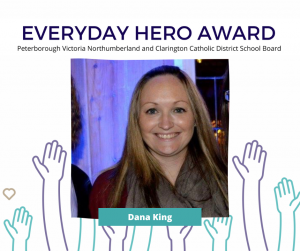 Dana is a Teacher at St. Dominic CES. Dana was nominated by a colleague, who said:
"Dana King is an everyday hero to the students and the staff of our school. Her ambition and positive attitude are contagious. Dana is always thinking about the students' mental health and school experience. To that end, she has designed, fundraised and implemented an outdoor classroom and a mental health hall walk for our primary students. She led a group of staff members in creating mental health day activities that both staff and students could enjoy and use to recharge. Dana is helping students create a yearbook of memories that will be cherished by all. She runs dances, hosts special treat sales and runs Student Vote. She never hesitates to step up and make things happen at the school, which has led to many great activities and has ensured that students feel cared for, and supported. Dana always notices when a staff member needs support and is willing to collaborate and share any resources she can. Dana has a strong sense of community, makes our school a positive place to be, and lives her life according to Jesus' teachings. This is why she is our everyday hero!"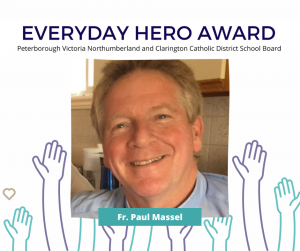 Fr. Paul is the Board Chaplain and Faith Animator at the CEC. Fr. Paul was nominated by a colleague, who said:
"Father Paul, as the Board Chaplain and Faith Animator of PVNCCDSB inspires hope and enhances the faith life of all those he meets. Whether being there for staff and students during times of sorrow or during times of celebration, Father Paul is the shepherd who guides each one of us. Father Paul's weekly morning prayer, meditation and reflections during mass or special prayer celebrations truly animates our faith in so many ways. His promotion of Laudato Si ensures that our faith life is connected to God's creation. 
Father Paul was recently featured on a global faith television series. His journey to the priesthood supports the chaplain he is today. A man who enjoys using his gift of music and the arts in liturgy, a man who provides respite and support to many who are suffering (as evidenced in his prior work as a hospice chaplain), and his positive view that life is indeed a journey (as evidenced by his path into the priesthood). Father Paul is a support and hero to so many in our system. He carries out his daily duties with great joy, great hope and great humility. It is only fitting that Father Paul Massel is recognized as an Everyday Hero."
We would like to thank Lisa, Kristin, Lorna, Kayla, Dana, and Fr. Paul for their commitment to creating a culture of faith, hope and love to ensure equity and well-being at our board.