Everyday Heros: Rebecca Brady, Vicki Blakely and Jill King
Every week we celebrate PVNC staff members who have been recognized by a parent, student or colleague as an Everyday Hero. Every school and every department in our Board has an Everyday Hero who expresses their kindness, courage and love through simple, ordinary actions that uplift the lives of the people around them and the students we serve. An Everyday Hero is a caring adult, an empathetic colleague, somebody who simply makes going to work each day worthwhile.
This week we are celebrating Rebecca Brady, Vicki Blakely and Jill King.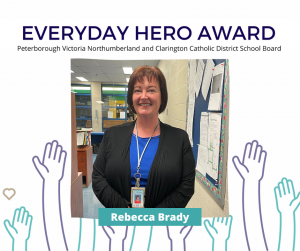 Rebecca is the Vice-Principal at St. Catherine CES. Rebecca was nominated by a colleague, who said:
"For so many reasons… Becky is a hero and nothing short thereof. Becky wears every single hat in this school, and she does it with a huge smile on her face! Becky is a leader and one of the most genuine and empathetic people you have ever met in your life. She is someone that will lift you up and encourage you to be your very best. You can talk to her about anything and she will give you a positive perspective and amazing feedback. She makes everyone feel included and important no matter what your role is as an educator or child in this school. I am always amazed at the different responsibilities she takes on, it is never-ending. She has covered every job title in this school and more and come to work each and every day with a beautiful smile on her face! Rebecca makes St. Catherine a wonderful place to work and makes us feel like a family at our home away from home each and every single day. Rebecca plays a large role in helping you look forward to your day!"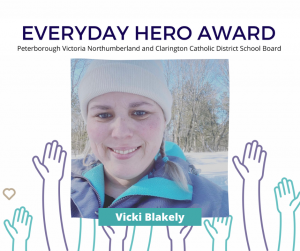 This week we are also celebrating Vicki Blakely, the Administrative Assistant to the Superintendent of Learning/Special Education Services. Vicki was nominated by a colleague who said:
"Vicki brings a positive and energetic attitude to the Catholic Education Centre on a daily bases. Vicki constantly makes people laugh through her sense of humour whether it be through a conversation or going all out during spirit week. Vicki always brings in treats for co-workers and is always thinking of others. Vicki is also part of the Social Committee and takes time out of her day to plan fun activities for staff at the CEC. Vicki constantly puts the needs of the students first by being efficient and effective in all the work she does to support Spec Ed Consultants, Spec Ed VP and Spec Ed Superintendent. Vicki is the first person that will help you even when she has a million items on her "to-do list", she will always make time for others. The Catholic Education Centre and especially the Special Education department is a better place because of the efforts of Vicki."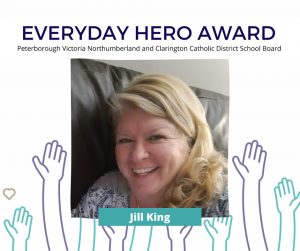 This week we are also celebrating Jill King, Educational Assistant in Special Education at St. Thomas Aquinas CSS. Jill was nominated by a colleague who said:
"Jill is a major part of our St Thomas and CKL community and she always gives back. She cares and invests personally in students by embracing their uniqueness and God-given talents. Jill brings wonderful positivity to our staff – often bringing humour when we need it. She is a cherished team member that makes an impact! No matter the circumstance Jill is always positive and gives her all. She runs the breakfast club, works in mainstream and high needs classes and is flexible whenever the situation requires it. She is an excellent contributor and collaborator, consistently offering input and resources. Her joy and enthusiasm make coming to work a pleasure, even on the more challenging days. Thank you, Jill!"
We would like to thank Rebecca, Vicki, and Jill for their commitment to creating a culture of faith, hope and love to ensure equity and well-being at our board.