Everyday Heroes: Jessica Jinchereau, Pat Appleman, Gene Gifford, and Jackie Barker
Every week we celebrate PVNC staff members who have been recognized by a parent, student or colleague as an Everyday Hero. Every school and every department in our Board has an Everyday Hero who expresses their kindness, courage and love through simple, ordinary actions that uplift the lives of the people around them and the students we serve. An Everyday Hero is a caring adult, an empathetic colleague, somebody who simply makes going to work each day worthwhile.
This week we are celebrating Jessica Jinchereau, Pat Appleman, Gene Gifford, and Jacqueline (Jackie) Barker.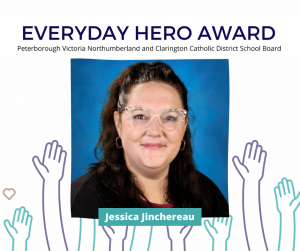 Jessica is the Learning Commons Specialist at St. Francis of Assisi CES. Jessica was nominated by a colleague, who said:
"Jessica has the kindest heart and has the most energetic enthusiasm of any LCS I have seen. Her excitement for her job is contagious and her ideas are outside the box and make even the most timid child bloom. She helped create the outdoor classroom at her school, brought in her STEM training and has now brought in baby ducks to the LC/Library so she can spread some agriculture experience to her students. She is always ready to listen to coworkers and students and help with any request and if she does not know the answer, she finds someone who can."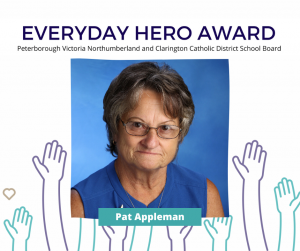 Pat Appleman is an Educational Assistant in Special Education at St. Stephen CSS. Pat was nominated by multiple colleagues who said:
"Pat Appleman is a true representation of Catholic education. She is a dedicated member of our staff who supports students consistently throughout her day. She leads a team of staff to prepare a breakfast club for students that rival many top hotel chains. She meets students at their level and is always willing to help.
Pat is a selfless, generous employee who always puts the needs of our student community ahead of her own. Her dedication to all students, especially those in special education, is exceptional. Pat's work ethic and kind demeanour are admired by all who meet her.
She is very dedicated to the students and goes above and beyond for any and all students each day. She has given her lunch to students and has bought many lunches or given them money to go out and buy something. Pat works tirelessly with her students to get them caught up or to help them in any way possible so that they pass the course. Pat never takes time off, she always comes in because she doesn't want her students not to have the support they need. Pat will do anything for any student, she puts them first before anything else, including her own health."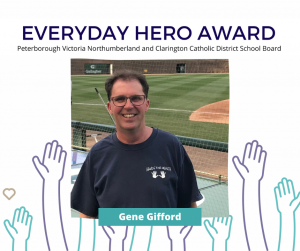 Gene Gifford is a custodian at the Catholic Education Centre. Gene was nominated by colleagues who said:
"Gene recognized I was having problems navigating the CEC. He cleaned snow off my car and warmed it up, brought the car to the CEC front door on several occasions, and helped load and unload the car without being asked. Greatly appreciated!
I would like to nominate Gene Gifford. He always shows up with a smile, positive attitude and a desire to be kind to everyone. He tackles last minute setups, several set ups in one evening as well as any other last minute emergency with grace. Our custodians are quiet heros, cleaning up messes we leave behind and befriending everyone that passes by. They are an essential part of the team and we all appreciate everything they do. I'd like to take this opportunity to say thank you for all of your great work and more importantly your friendship!"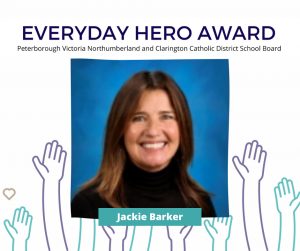 Jackie Barker is an Education Assistant at St. Elizabeth CES. Jackie was nominated by a colleague who said:
"Jackie is kind, patient and respectful when dealing with all staff, students and parents. She is warm and welcoming to all visitors to the school including student monitors and supply staff.  Jackie always takes initiative and has a positive disposition which is contagious. She knows everyone's name and the students LOVE her. Jackie has her hand up for EVERYTHING in the school and she does amazing work with the students. We are lucky to have her here."
We would like to thank Jessica, Pat, Gene, and Jackie for their commitment to creating a culture of faith, hope and love to ensure equity and well-being at our board.