July 15, 2020
Thank you to everyone who participated in the recent Thoughtexchange family survey and conversation held July 2 to July 13, 2020. 
More than 6,250 people participated in the Thoughtexchange, sharing more than 7,200 ideas and applying 236,560 ratings of ideas related to school reopening this fall. 

We want to provide you a summary of the answers, thoughts and themes that emerged from the survey and provide you with more information about how we will be moving forward with a safe reopening of schools in September.
Before we delve into the specifics of the survey, however, we want to recognize the underlying message of every idea, thought and concern that has been shared with us – "this situation has been really hard."
School closures put an incredible strain on the families we serve and we know parents, students and staff alike are concerned about what September will look like.
Please know you have been heard and we are using your input to develop our reopening plans. 
Background 
As you may know, the Ministry of Education has asked every school board in Ontario to plan for three different scenarios for back-to-school this fall.
A normal school day routine with enhanced public health protocols.

A hybrid school day routine that would provide for physical distancing and cohorts of students, which would require alternate day or alternate week in-class delivery.

At home remote learning.
The government will announce which of these scenarios will be in place for September. We expect that decision to take place in early August.
We share the Ministry of Education's hope that we can reopen schools to full, in-class, in-person learning as soon as possible with the required safety measures in place.
But in the meantime, we have to prepare for all three scenarios outlined above. In doing so, we will be considering the feedback we have received. 
As we consider hybrid models where student cohorts attend on different days, we asked parents which model they would prefer.

If the Ministry decides that school boards will start the year with a hybrid schedule, the results of this survey show that most parents prefer alternate days. The results indicate that 51% of parents would prefer an alternate day model, 31% would prefer an alternate week model and 18% preferred another option.
Based on the information that parents currently have, we asked, if in-class instruction resumes this fall, are you planning to send your child to school?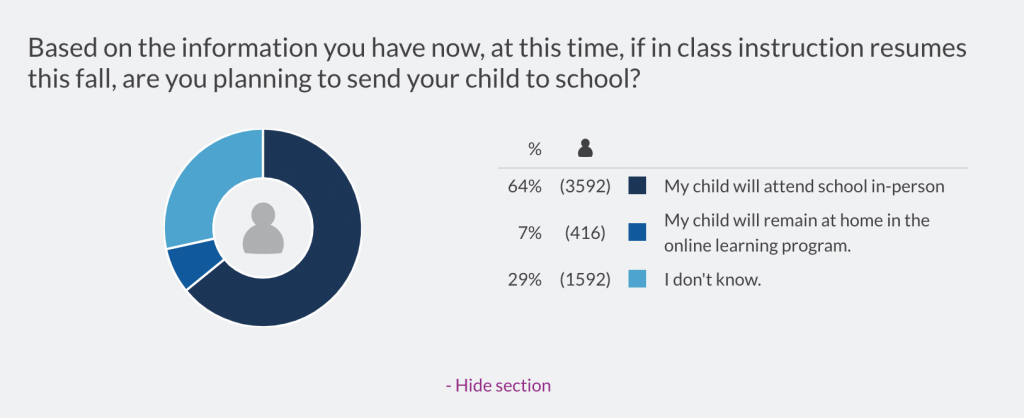 The results indicate that 64% of parents would be ready for their child to participate in in-class instruction, if available, while 29% of parents remain unsure and 7% indicate they wish their child to remain at home in the online learning program.
Based on our Thoughtexchange data, we have also identified the following priorities for all of our school re-opening scenarios: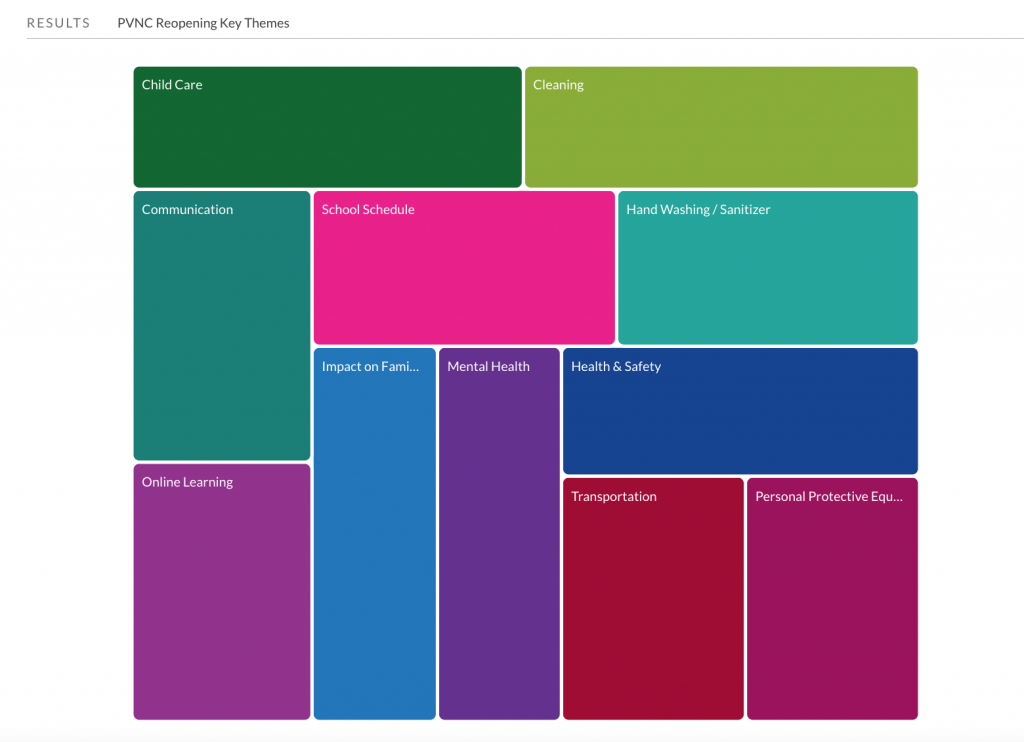 Siblings in the same cohort – where it is possible, siblings should be grouped in the same cohort so that they are attending school on the same days and are home on the same days.
Mental health support for students – supports for students will be in place, recognizing the lasting impacts that extended closures and a global pandemic will have on social, emotional, physical and academic wellbeing.
Handwashing/Hand sanitizer/Physical distancing – all the measures that have helped reduce the spread of COVID-19 in the community will be maintained in the school setting. There will be a continued emphasis on handwashing, washing and sanitizing stations will be available in the schools and physical distancing measures will be applied to avoid close contact and congregation of students and staff.
Protocols in the event of illness – we will reinforce that both students and staff who are ill must stay home. If a student or staff member becomes ill while at school, or comes to school ill, they will be isolated until they can be picked up. In conjunction with public health, we will share communication protocols in the event of students, staff or family members testing positive for COVID-19.
For those that want to take a deeper dive into our data, we invite you to read a summary report on the Thoughtexchange data, by clicking here.
So what's next?
Please be assured that our Board staff is working hard to plan for all three scenarios and we continue to meet with our local public health partners throughout this process.
We know that parents will require as much notice as possible to make plans for their families this September and we will communicate with families in August as soon as the Ministry officially announces how schools will open for learning.
In the meantime, please stay safe and well and enjoy the summer months. We look forward to welcoming back our students and staff in September.