This PVNC teacher and red-seal chef got his culinary start in the Specialist High Skills Major program
Dan Troisi, a red-seal chef and PVNC teacher, credits two major influences on his culinary career – his grandmother and the Specialist High Skills Major program he took while attending St. Mary Catholic Secondary School in Cobourg.
"Growing up in the same kitchen as my grandmother, I have pictures of me as a five-year-old child seasoning a turkey. She would kick everyone out of the kitchen but me," Troisi said.
"It was the time she took to teach me…why we season…why we roast it at such a temperature."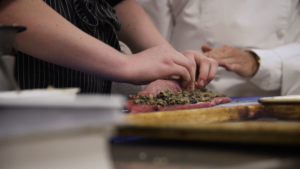 As Troisi was going through secondary school, he said he was fortunate to discover the Hospitality and Tourism program offered at St. Mary CSS.
"The Specialist High Skills Major program offered me a lot of opportunities in high school to express myself and to show skills that I wanted to build upon," he said.
Through that program, Troisi was exposed to cooking at the post-secondary level and introduced to experts in the culinary field.
"That opportunity for us as high school students was amazing…it took us out of our traditional high school setting," he said. "When you go into that environment and you see these chefs with their tall hats and their white coats and everything is proper, that can be very inspiring, you almost have to take it seriously."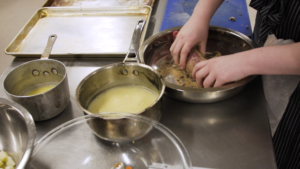 As a chef, Troisi travelled and gained experience in the kitchen, landing a great job working in a restaurant in the Caribbean, but a passion for teaching brought him back home and back to school. After finishing teacher's college, Troisi is now working at St. Peter Catholic Secondary school in Peterborough, supporting the Specialist High Skills Program there and inspiring a new generation of future chefs.
"(The students) walk out of that class every day curious," he said. "You get to see things that you might not have ever seen before. You get to taste things that you may have never tasted before."
Longtime PVNC culinary teacher Cathy Rose says her students get much more than kitchen skills from the program.
"It's the best course you could ever take. You will learn professional knife skills, how to work in a professional kitchen. You'll be able to cook for yourself. You'll be able to cook gourmet meals for other people," Rose said.
"A lot of problem solving is in the culinary world, being able to think quickly on your feet, being disciplined, keeping your own work space very neat and tidy."
PVNC is excited to launch the second in a series of new videos spotlighting stories like this about the teachers, technologies and opportunities empowering our students in the skilled trades.
The Board offers a variety of SHSM programs in all our secondary schools ranging from manufacturing to hospitality & tourism to environment.