Staff Wellness: From axe throwing, to "Birthday Buddies" to Wednesday Walks, PVNC staff find unique ways to promote staff wellness
Feb. 24, 2020
Well-being is that positive sense of self, spirit, and belonging that we feel when our cognitive, emotional, social and physical needs are being met. PVNC recognizes that the mental health and well-being of our staff is foundational to their success in the workplace, whether it's in a classroom, on school grounds or in an office space. Our Be Well Strategy is our commitment to promoting, supporting and enhancing the well-being of all of our learners, including our staff.
Throughout the school year, we'll be highlighting stories and sharing some of the creative ways our staff are promoting staff wellness across the Board.
St. Dominic CES staff hit the bullseye on staff wellness
On professional development days, staff members at St. Dominic Catholic Elementary School in Lindsay have a tradition of meeting as a group in the evening, to attend dinner and take part in a range of recreational activities such as paint night, bowling, game night, and most recently, axe throwing! Principal Sheila Piggot says the get-togethers bring out most of the school staff and foster a sense of community and friendship building.
St. Francis of Assisi CES creates surprises and smiles with Birthday Buddies initiative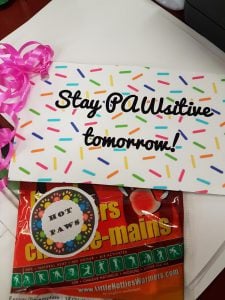 During the first staff meeting of the year, admin at St. Francis of Assisi CES in Newcastle proposed a new initiative called Birthday Buddies.
Interested staff were given the name of a secret Birthday Buddy (another staff member). They are then responsible to help celebrate that person's birthday for them. This has ushered in decorated doors, fun announcements over the PA, and creative and personalized gifts.
"It was a goal of ours to build relationships among staff and improve overall mental well-being. We had an overwhelming response to the initiative with most staff participating," vice-principal Jen Wright said. "We have witnessed such excitement and comradery among staff.  With such a large staff, we have birthdays happening most weeks and we now also have lots of smiles and laughs. Birthday Buddies has been a wonderful way to promote staff wellness."
Wednesday Walks invigorate Board office staff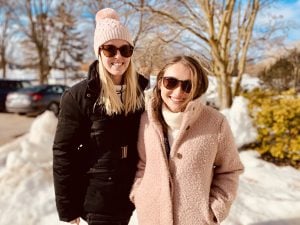 The social committee at the Catholic Education Centre hosts a variety of events throughout the year.
Wednesday Walks are promoted each week to encourage 15 minutes of physical activity in the afternoon. The goal is to get people up from their desks, away from a computer screen and get their bodies moving and blood pumping.
Participants, which vary depending on weather, enjoy some fresh air, some conversation with a colleague and return to their office feeling refreshed and ready to tackle the afternoon.