St. Peter Catholic Secondary School returns to the stage with "GREASE: The Musical"
The St. Peter CSS production will run four performances at Peterborough's Showplace Performance Centre Feb. 15 to 18
Jan. 19, 2023
St. Peter Catholic Secondary School returns to Showplace Performance Centre in downtown Peterborough on Wednesday, Feb. 15, for the first time since 2018 with Jim Jacobs and Warren Casey's classic GREASE The Musical.
Directed by St. Peter CSS drama teacher and arts chair Paul Crough, the production includes close to 200 students and staff within the school community.  Jennifer Riel is choreographer, James Wright is music director and Dyanne McDonald is stage manager.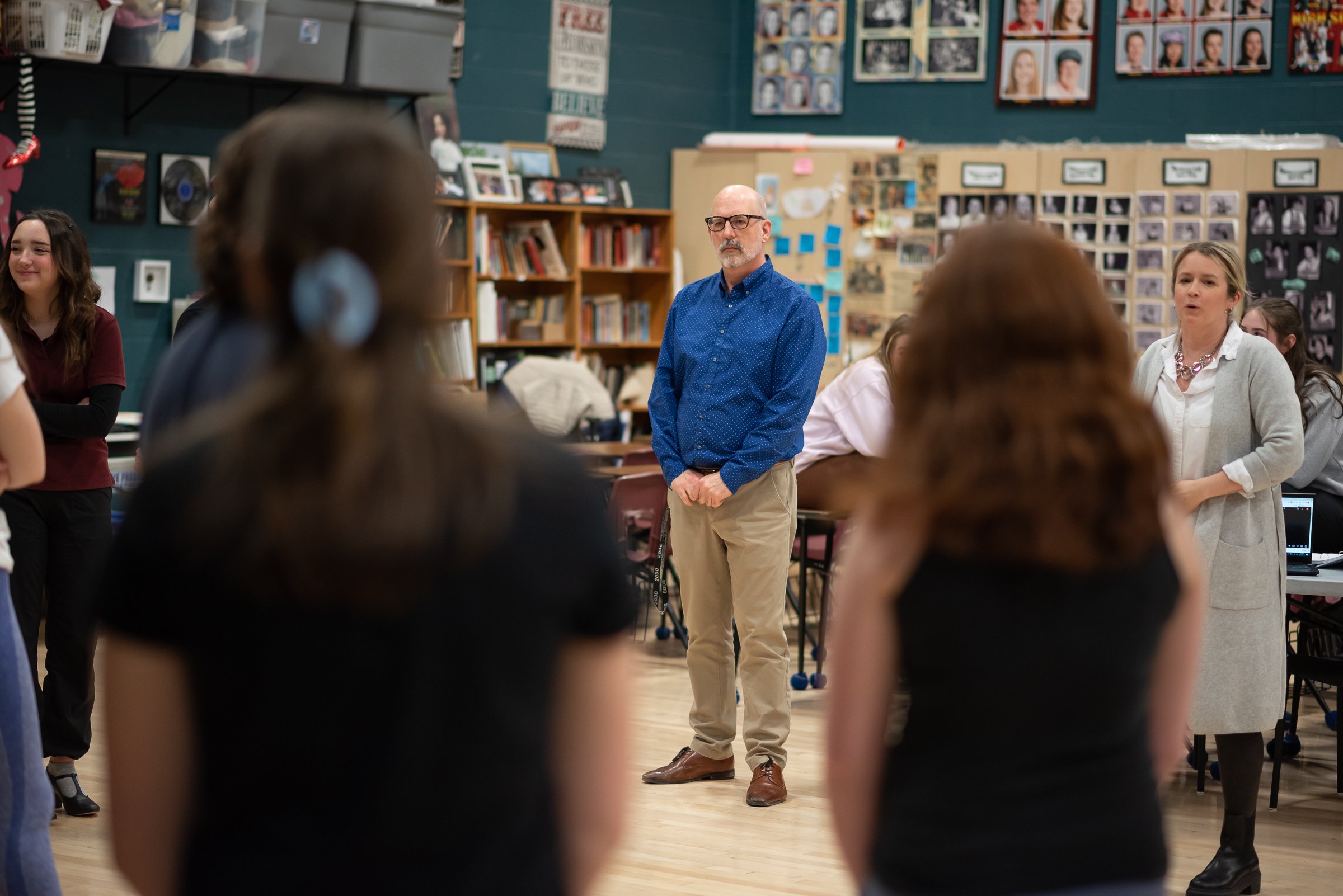 Director Paul Crough (L) pictured with Choreographer Jennifer Riel (R).
"It's always an exciting time, we have students from Grade 9 through 12 in the musical," says Crough. "The part that I love about the whole experience that the audience doesn't get to see is the process. We have students who have never sung publicly in front of someone, and they're terrified at auditions, and we witness the growth that takes place within their confidence with a like-minded group."
Grade 9 student Aly Johnson is one of the youngest cast members who has never been involved in musicals in the past.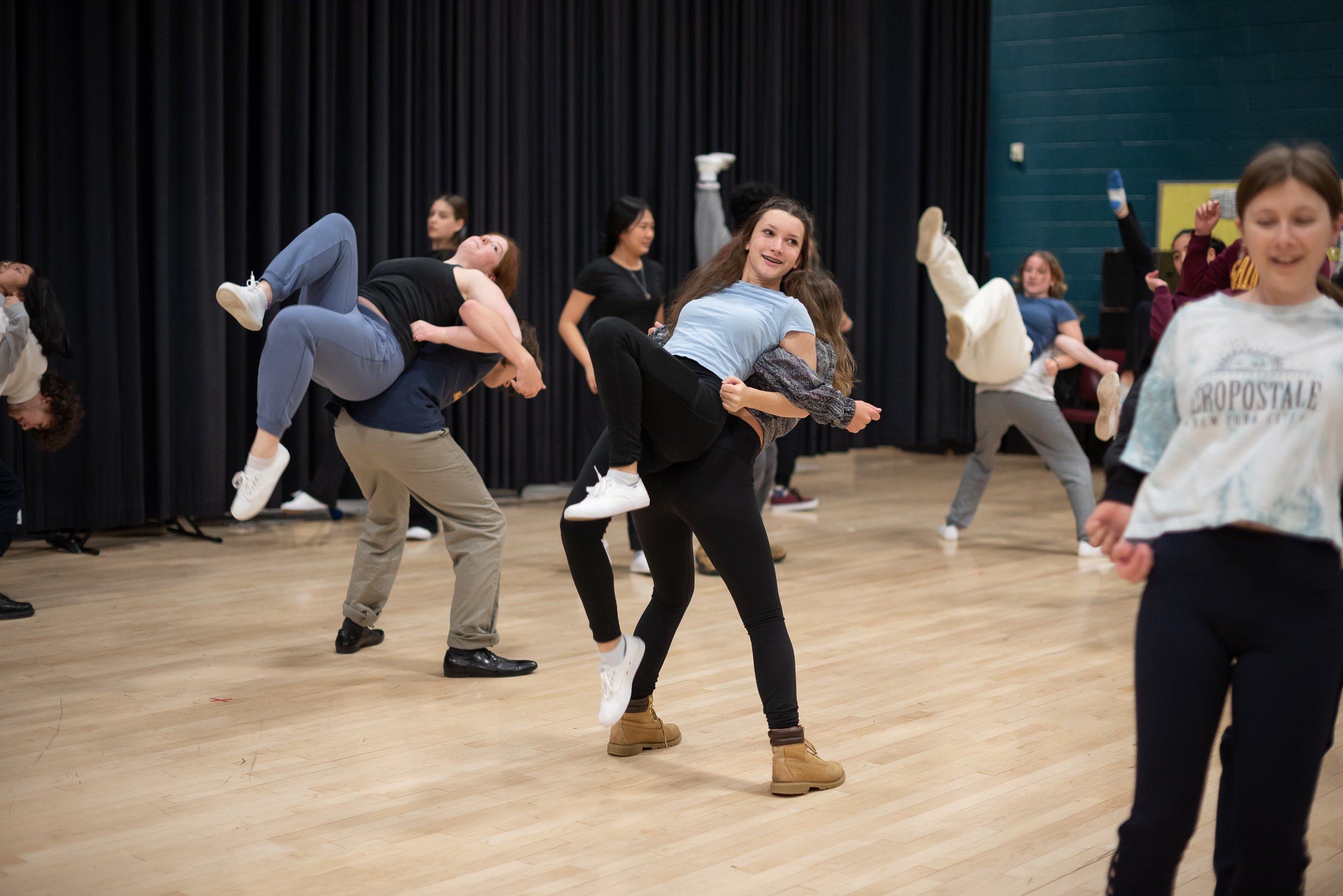 Grade 9 student Aly Johnson rehearsing dance routine.
"I auditioned and was a little nervous but once we started and I made some friends it was really nice to be a part of this community at St. Peter," says Johnson. "I feel really good about it, especially in my first year of high school because I can make more connections."
Cast leads Ryan Forsyth (Danny) and Macayla Vaughan (Sandy) are excited to see the production come to fruition with all of the hard work going on behind the scenes.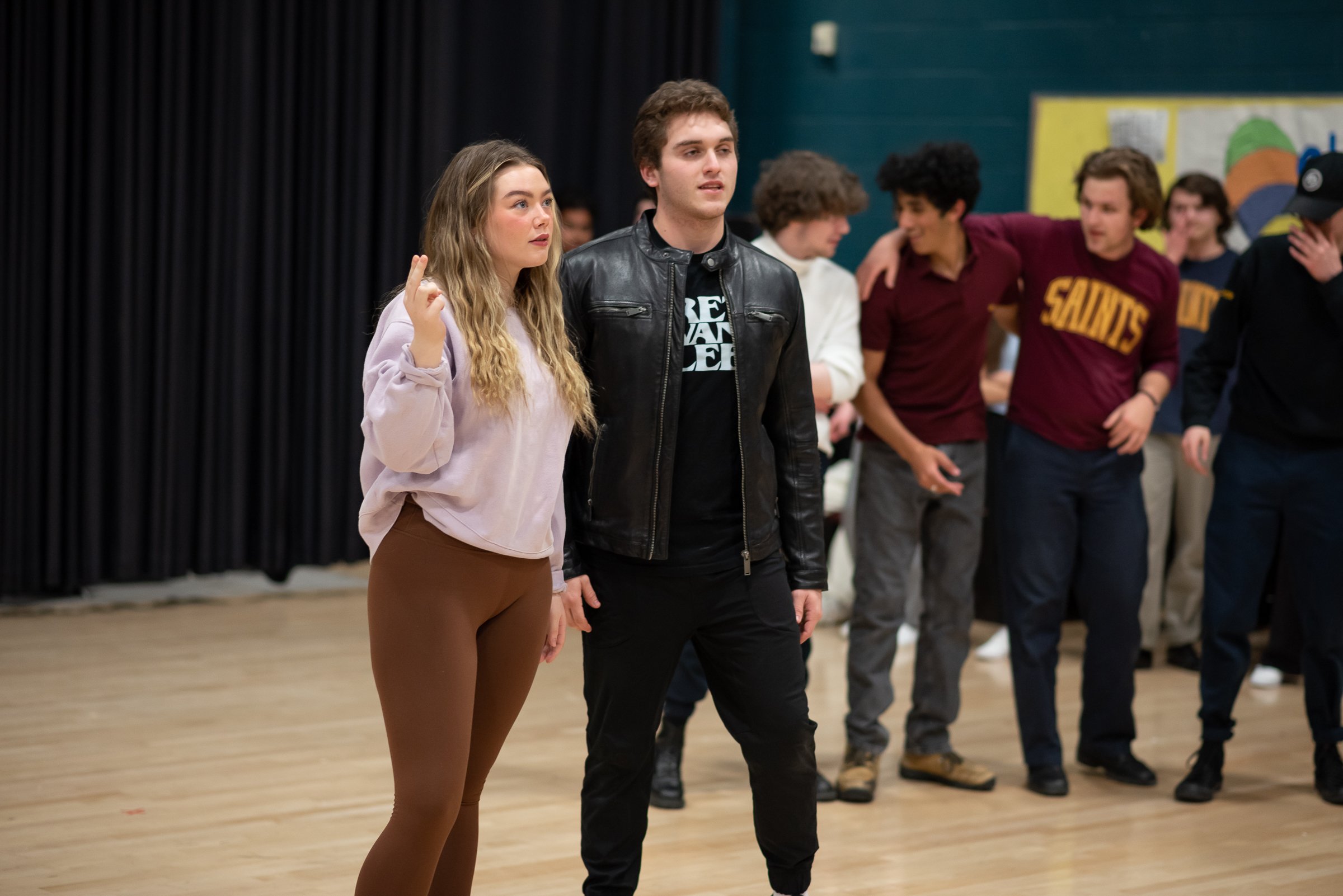 Leads Macayla Vaughan (L) and Ryan Forsyth (R) as Sandy and Danny.
"We have all worked so hard, so it's exciting to see it come up so soon on the stage," says Forsyth. 
"This is a dream role of mine, and as the first and last show I get to be a part of with this school, it is something special," adds Vaughan.
GREASE, the classic story, involves Sandy Dumbrowski, the new girl in town, and Danny Zuko, the school's coolest greaser, who have a secret summertime romance – but when they get back to school, everything is different. Sandy attempts to navigate the tricky Rydell High School social waters and catch Danny's attention again, but Danny is chiefly concerned with maintaining his tough-guy reputation. In the end, the Pink Ladies help Sandy figure out how to win back the leader of the Burger Palace Boys.
General admission tickets are $28.50, plus fees, and available at the box office at Showplace Performance Centre (290 George St N, Peterborough) or on their website www.showplace.org.