St. Joseph CES Douro raises $2238 for "Peace of Cake for Ukraine"
Yesterday, staff and students at St. Joseph CES Douro were invited to wear blue and yellow as they came together as a community for their first Lenten social action initiative, "Peace of Cake for Ukraine".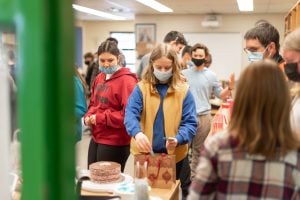 Students participated in a Cake Walk, where they had a chance to win one of many wonderful cakes made by staff. Tickets were purchased over the course of a week, and each acted as a voting ballot and raffle ticket for each cake they voted on. After a delightful slide show presentation of cakes was presented in class over the course of the morning, students visited the cake display to choose which cake they would like to vote on and enter their draw tickets.
After draws were held at lunch, winners of the thirty baked masterpieces were announced to the school.
At last count, $2238.00 was raised by the community to donate to the Canadian Red Cross Ukraine Effort.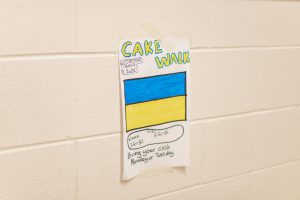 While a whole community event, Melissa O'Neill's Grade 5/6 class and Sarah Donovan's Grade 6/7 class spearheaded the organization and promotion of the event with posters, announcements, and class visits. The St. Joseph community has had its generosity and spirit put on full display.
The PVNC continues to encourage prayers for peace and prayers for the people of Ukraine.
Lenten social action @StJosephDouro
'PEACE OF CAKE FOR UKRAINE'
students participated in our Cake Walk, where they had a chance to win a cake made by Staff! At last count, $2,238.50 was raised by the school to donate to the Canadian Red Cross- Ukraine Efforts #PrayersForUkraine pic.twitter.com/tXmI9bv3ur

— St. Joseph, Douro (@StJosephDouro) March 10, 2022