St. Francis of Assisi celebrates feast day with special "blessing of the pets."
Oct. 16, 2019
St. Francis of Assisi Catholic Elementary School in Newcastle opened its doors to some furry visitors – cats, dogs, guinea pigs and rabbits – during a special "blessing of the pets" event organized to celebrate the feast day of the school's patron saint on Oct. 4.
The school started the day with mass at the church. Fr. Ace and Deacon Doug attended the school afterwards to lead the pet ceremony.
Parents were invited to bring in any pets (as long as they were on a leash or in a pet carrier) and joined the school for the blessing in the sunshine.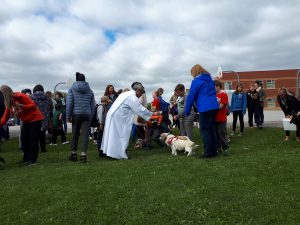 During the blessing, the school choir sang the hymn of St. Francis and Fr. Ace talked about St. Francis' love of all God's creatures.
"Students were so excited for their pets to arrive and receive the blessing," vice-principal Jen Wright said. "School principal Steve Smith may have been most excited of all to have his chocolate lab, Guinness, join the blessing. It was truly a celebration of school, home and parish."