St. Dominic CES community celebrates 150 years of Catholic education in Lindsay
The St. Dominic Catholic Elementary School community celebrated 150 years of Catholic education in Lindsay with an anniversary ceremony on Tuesday, Sept. 17, 2019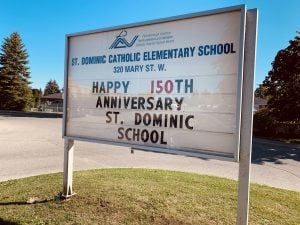 "Saint Dominic made his mark on the world. He brought the rosary and the word of God to the people, and saw where it would take him," school principal Sheila Piggott said. "Our students are our future and through the many opportunities we have here for them – our teams, sports, Eco Schools and Me To We Teams, our inquiries about religion and learning – we know we will see their marks in Lindsay, Ontario, Canada and the World."
Bishop Daniel Miehm celebrated mass and brought greetings on behalf of the Diocese of Peterborough. Haliburton – Kawartha Lakes – Brock MP Jamie Schmale and MPP Laurie Scott brought greetings on behalf of the federal and provincial governments, while Director of Education Michael Nasello celebrated the milestone on behalf of the Board and trustees and Catholic School Council chair Karen Goodhand spoke on behalf of the school community.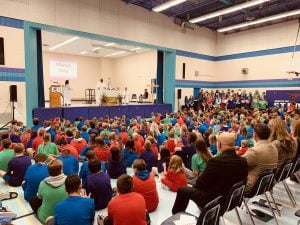 The first Catholic elementary school in Lindsay was constructed in 1845 in a log church at the south west corner of Russell and Lindsay streets. In 1868-1869 a new school was built on the same site and named St. Dominic, where both girls and boys were taught until the girls were moved to a new school – St. Mary – under the tutelage of the Sisters of St. Joseph.
John Rogers was a teacher and principal at St. Dominic for 30 years. Following his death in 1929, the Sisters of St. Joseph were asked to take over the school and teach the boys.
By the 1950s, both St. Dominic and St. Mary were over-crowded and in need of repairs. Bishop Berry consolidated the schools on the St. Mary site and sold the St. Dominic property.
In 1994, PVNC built and opened St. Dominic CES in its current location. It opened to 370 students. A refurbished bell from the old St. Dominic building hangs in the front hall of St. Dominic today.
"Today is a day to give thanks, to thank God for 150 years of Catholic education at this school," Bishop Miehm said. "Today is a day to think of all those that came before us – the staff, the students, the parents, who kept this school a special place for 150 years. We thank God for the lessons they have bequeathed to us."