Slow Down! St. Martin CES hosts back-to-school safety message
Aug. 31, 2023
St. Martin Catholic Elementary School in Ennismore was the site of a back-to-school safety message on Thursday, Aug. 31 in partnership with local municipalities and police services.
In partnership with Peterborough County and the Township of Selwyn, the Ontario Provincial Police (OPP) and Peterborough Police Service (PPS) will be increasing traffic enforcement in school zones this fall. Drivers are reminded to take extra precautions as school buses return to the roads. This includes slowing down in school zones, planning to leave early, giving at least one metre of clearance to cyclists, and stopping for school buses.
The OPP and Peterborough Police Service would like to remind motorists of the following:
1) You must stop for stopped school buses with lights flashing.
2) Speeding in a school zone can result in fines and demerit points.
3) Crossing guards have the right to stop traffic at crosswalks – abide by their direction.
4) Motorists must wait until the crossing guard is no longer on the roadway before proceeding.
To keep school children safe, both the OPP and the PPS will be monitoring and issuing tickets as required for offences in school zones and/or community safety zones.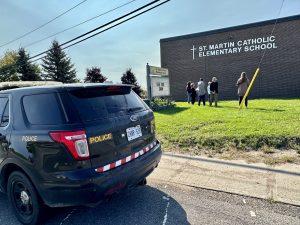 "Young learners, our children, are brimming with eagerness and hopeful expectation for the adventures the upcoming academic year will bring. The Peterborough County OPP extends a reminder to drivers, urging them to remain vigilant as children reconvene along our sidewalks, crossing guards reappear at intersections, and school buses reclaim their place on our roads," Inspector/Detachment Commander Chris Galeazza said. "It is of utmost importance that everyone consistently prioritize safety as children embark on their daily journeys to and from their school. Motorists are requested to plan for potential delays, always demonstrating prudent judgment and patience throughout the school year."
St. Martin CES principal Jennifer Fisher reminded motorists that students eager to get to school may not always be cautious on roadways.
"I'd like to take this opportunity to remind drivers how unpredictable our little ones can be near roadways. You should always expect the unexpected as children of all ages are walking or riding to school and drivers, please give yourself plenty of time to react by obeying the posted speed limit and school bus signs," Fisher said.