PVNC Transitions Summer Program wraps up successful term
Sept. 1, 2021, 
The PVNC Transitions Summer Program wrapped up a successful term last week, running from Aug. 16 to Aug. 27. Intended for students who will require consistent and explicit instruction to support their ability to return to school safely, the Transitions Summer program made an impact on those who needed it most.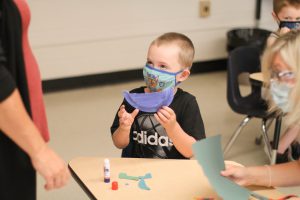 Fifty students joined elementary classrooms in St. Mary CES in Lindsay, St. Michael CES in Cobourg, St. Mother Teresa CES in Courtice, St. Teresa CES in Peterborough, and secondary classrooms at St. Stephen CSS in Bowmanville and Holy Cross CSS in Peterborough. 
Working with eight multidisciplinary teams, each group included a special education resource teacher (SERT), an autism spectrum disorder (ASD) worker, educational assistants, as well as support from a social worker in each region and speech language pathologist.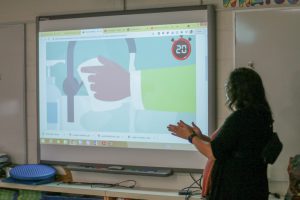 "Throughout the program, the teams here did an excellent job of helping kids have a healthy return to in-person learning and it supported our children that learn a little differently or children that have a little bit of anxiety about returning to in-person learning" says Lisa Gemmiti-Folz, principal of the program. "The goal of the program is to bring them in for 90 minutes each day for 10 days and just build on different strategies in their toolbox to help them with that healthy support back to school."
On a day-to-day basis, activities were centered on learning through play with focuses on hand-washing and sanitizing, wearing masks in the school, as well as social distancing. SERTs in each classroom worked diligently to continue on students' learning goals and strategies, and in turn, shared that information with each child's homeschool, including the principal and resource teacher.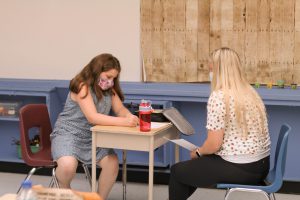 Hearing great feedback from parents and students themselves, staff involved in the program have had a positive experience working with students in-person to assist in a comfortable transition back to school. 
"I decided to do the program because I just love working with kids, and knew it would be a great experience. Working with the transition teams, it has been really rewarding for us to see the growth even just over a short span of time over the two weeks. It has been really nice" says teacher Breanne Peters.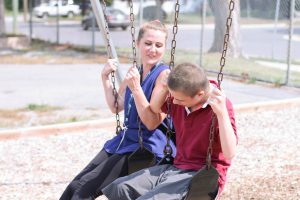 "We didn't really know what to expect coming in. We had some students that we were told would last a short period of time. We found these students were quickly staying the whole session, which has been really nice to see. It has just been really great just to work one-on-one with our students that kind of need that extra love and support. Seeing their happy faces and being excited to be back at school and realizing that school it's not going to be scary because of all the health and safety precautions."
Photos from the classroom: