PVNC Inspires: Olympian Ava Stewart on returning to St. Stephen CSS after competing in the Tokyo Summer Olympic Games
September 27, 2021 
The St. Stephen Catholic Secondary School community has welcomed Ava Stewart back from her competition in the Tokyo 2020 Olympic Games this summer. Starting Grade 11, Ava has made her peers proud as she represented Canada as part of the Canadian Artistic Gymnastics Team.
Competing in local, provincial and national competitions, joining the Canadian Olympians was no small feat for Ava. She was named to the national team in 2020, her first year attempting to be a high-performance gymnast. She started gymnastics in a parent-tot class at 18 months old and began competing at age six. With perseverance and determination, she successfully got to join other athletes from around the world. 
"My goal this year was to go as far as I could, whether that meant Nationals, World Cup, or PanAms, but obviously, the ultimate was the Olympics. This was my first year being a senior national, I didn't really get a junior year to train and compete" says Ava. "It was difficult not having the experience to build my confidence at a higher level. When they announced athletes born in 2005 were allowed to compete in the 2020 Olympic Games, I didn't really know if I was ready to go at this point. With the support of my teammates and coaches, we decided it was an experience I couldn't turn down after consistently placing at recent competitions." 
"When I got to step on the mat for the first time during podium training, it was very exciting and overwhelming. Once the events started, it became more familiar to me, still exciting but less overwhelming, and that feeling stayed with me throughout the competition" recalls Ava. 
Inspiration is not an unfamiliar concept to Ava, as she reflects on who inspires her as a young athlete. "I don't have a singular person that inspires me, rather anybody that is able to do something difficult or has helped me throughout, not just gymnastics, but any part of my life," says Ava. "This mostly includes my parents, coaches, and closest friends."
When asked about his daughter's successes, Ava's father, Ryan Stewart, teared up as he reflected on her athletic history.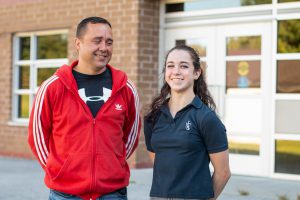 "If you were to ask me if I thought Ava was going to go to the Olympics, as a parent, the only thought that crosses your mind would be that you just want them to have fun and participate in something they are passionate about," says Ryan. "Honestly, things happened very quickly towards the end, and as they ramp up, you never know how it's going to turn out. As her father, I'm happy to see how successful Ava has become, but it is difficult to see her dedicate so much of her time, but we are proud." 
Returning to school, Ava has stayed committed to her education at St. Stephen CSS, while training for her next competition. 
"Being in high school while training as a national athlete comes down to discipline, to be honest," says Ava. "Making sure to get your homework done and making sure you understand the material is most important. Just like normal high school stuff, I just have less time to do it. The school has been so accommodating for me to be able to balance everything and I am very thankful for the teachers I've had."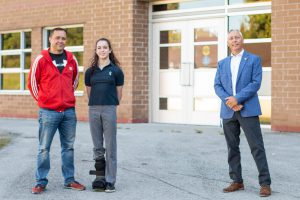 St. Stephen CSS principal Trevor Poechman has witnessed Ava's dedication to her academics and athletics first hand. 
"It's not often you are in the presence of a student who is so gifted at her sport. People are excited to see her be successful and want to help her achieve that success. The staff here have been phenomenal at supporting Ava with creative timetables and making sure she has what she needs to be successful in the classroom as well," says Poechman. "Ava deserves all of the credit though. There is a nice buzz around her accomplishments and we are very proud to have Ava be a part of our community." 
Looking ahead, Ava's next competition will be in Elite Canada with other national athletes. She also has her eyes set on the next summer Olympics of 2024 in Paris.  Long term, she hopes to attend school for rehabilitation physiotherapy to follow in the footsteps of her father.