Holy Trinity students collect 3,400 pairs of shoes for Soles4Souls
For Safe and Caring Schools Week, Holy Trinity CSS decided to take kindness one step further and participate in the Soles4Souls campaign. The message of Soles4Souls perfectly met the mantra of Holy Trinity as an intentionally kind community – "be kind to the lonely, the sad and even the mad". Students and staff in the community collected a total of 3,400 pairs of shoes, almost six shoes per student at the school.
Physical education teacher Sarah Zinkie partnered with Bioped Bowmanville to collect any type of new or second-hand shoe that could be used by someone in a developing nation. The shoes were collected by BioPed and then delivered to Soles4Souls – a not-for-profit global social enterprise committed to fighting poverty through the collection and distribution of shoes. 
With such an overwhelming response, the shoes collected filled a cube truck and two van loads. The staff and students established drop-off locations in Peterborough, Oshawa, Cobourg, Barrie, Bowmanville, and Newcastle. Teachers Jen Martin, Tara Bruckmann, and Sarah Zinkie's classes led the initiative by bringing in 1,500 pairs combined.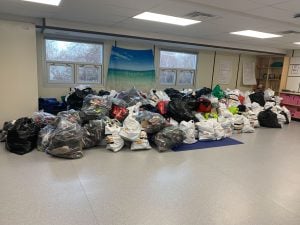 "Soles4Souls is an amazing community event that helps people in a very tangible way while permitting the added benefit of cleaning out our closets," says Bruckmann. "It is an opportunity to donate used shoes for a good cause; which also lends nicely to the idea of reusing items, and aligns with environmental stewardship and social justice initiatives."
Special recognition was also highlighted for Grade 9 student Alana Mintz, who collected 414 pairs of shoes on her own while earning 20 hours of community service.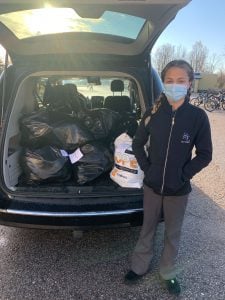 "I'm really happy my teacher taught me about Soles4Souls. There are so many people and places in need. I think this was really special because not only is it helping so many people around the world but it even helps our environment with recycling or reusing. I got to donate 414 pairs that I collected and I hope we can do it again or other schools do it too" Mintz recalls.
Just in time for the season of advent, Zinkie reflects on her gratitude for being a part of the Holy Trinity community; "I am so proud to be part of the HT team. This was an amazing demonstration of giving and love. An ultimate story of kindness."
Students from Ms. Martin's class standing with the shoes they have collected so far for the Sole4Soul Campaign! #BeingCommunity pic.twitter.com/GTrM1Cv4qV

— Holy Trinity CSS (@HTCSSPVNC) November 16, 2021
Thank you so much for your support of the Soles4souls campaign! It has been amazing! Tomorrow is the very last day for collection. #BeingCommunity #BeingWell pic.twitter.com/2AjqIazVjK

— Holy Trinity CSS (@HTCSSPVNC) November 22, 2021
Thank you so much for the fantastic results of the shoe drive. It is absolutely incredible. We finished with 3400 pairs of shoes. That works out to 113 kids sent to school OR 170 families shelter for the year. AH-MAZING. It's also almost 6 shoes per student at HT. pic.twitter.com/Opz5KFOLpk

— Holy Trinity CSS (@HTCSSPVNC) November 25, 2021