Holy Trinity CSS students place in Royal Canadian Legion Remembrance Day Competition
Holy Trinity Catholic secondary school is pleased to announce their 2022-2023 winners of the Royal Canadian Legion Remembrance Day Poster Competition.  This is the fourth year in a row that student artists have represented and placed in this annual competition for their artwork paying tribute to the sacrifices made by all impacted by war This year, for the first time, one student placed provincially.
This huge accomplishment was made by grade 9 student Roseline Ngangum who not only placed 1st for the branch and the zone, but also placed 3rd in the Intermediate Division for District F at the Provincial Level.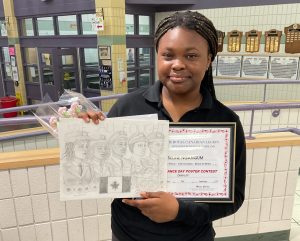 Congratulations to the additional winners who placed at the Branch level including Garrett Hannah, Paige Rayne, Grace Arnold, Caydence Pace and Teharrah Rennehan-Ducharme.
The Royal Canadian Legion, in partnership with schools across the country and with The Legion National Foundation, promote remembrance and support youth education through the annual poster and literary contests. Students in Grades 1 through 12 are invited to submit their creative works, with a focus on Remembrance, through their local school to be entered into Legion Branch contests. Winning entries move forward to the Legion's Provincial level contests. Finalists are then forwarded to the Legion National Foundation in Ottawa to be judged at the national level.
Garrett Hannah: 2nd place at the Branch level, Senior Division-Black and White
Paige Rayne: 3rd place at the Branch level, Senior Division- Black and White
Grace Arnold: 2nd place at the Branch level, Intermediate Division-Black and White
Caydence Pace: 2nd place at the Branch level, Intermediate Division-Colour
Teharrah Rennehan-Ducharme: 3rd place at the Branch level, Intermediate Division-Colour
Rosaline Ngangum: 1st place at the Branch and Zone, 3rd place Intermediate Division for District F at Provincials- Black and White