Holy Cross students sign letters of intent with US universities for lacrosse, hockey
Holy Cross Catholic Secondary School celebrated two big announcements in November as two students signed letters of intent to pursue their sporting passions for American universities.
Abby Hiltz, 17, signed a letter of intent to attend St. Bonaventure University on an NCAA Division I scholarship next fall.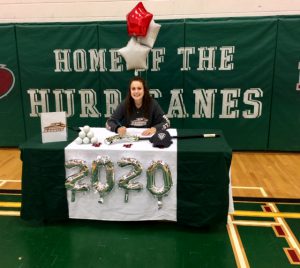 Rachel Bjorgan, 17, signed a letter of intent to attend St. Lawrence University in Canton, N.Y. to play with the Saints on a hockey scholarship.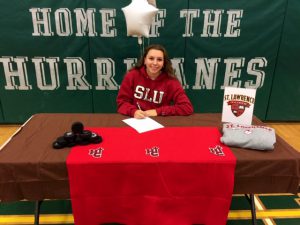 Both Grade 12 students took part in a signing ceremony at Holy Cross CSS.
Hiltz has played on Team Ontario three times. She played in the Brogden Cup in Florida two years ago. She helped Ontario's U17 team win the Canadian championship in Alberta last year. This year, she was MVP of the gold medal game when Ontario won the U18 national championships in Peterborough.
Bjorgan signed one week after she returned from playing for Team Ontario Blue at the National U18 Women's Hockey Championships in Morden and Winkler, Man. Her team placed fourth losing 2-1 in overtime to Quebec in the bronze medal game.
Bjorgan, a right wing, is also in her second season with the Whitby Jr. Wolves of the Provincial Women's Hockey League, the girls' equivalent to the Ontario Hockey League.
– Article compiled using stories by Mike Davies, Peterborough Examiner