PVNC INSPIRES: Her parents call her recovery a miracle. Her team of doctors have been astounded. St. Anthony Catholic Elementary School has welcomed back 11-year-old Shea Kerin who has defied all the odds to return to school this fall
A mischievous grin develops as 11-year-old Shea Kerin taps a response into the voice app on her iPad.
The voice of Yoda pops out as she answers a question about her first month of school and demonstrates some of the vocal features of the TouchChat app that allows her to communicate in different accents, characters or even languages if the mood strikes.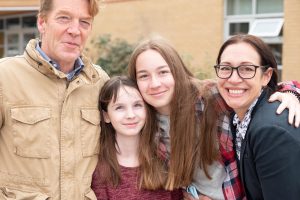 It's clear she's done this Yoda trick before, but she laughs heartily as if it's the first time. Sitting at a picnic table outside St. Anthony Catholic Elementary School in Port Hope with her father Brendan, mother Jennifer and older sister Aishling, Shea looks like any typical Grade 6 student enjoying the last day of school before the Thanksgiving long weekend.
But the fact that she's here at school at all is anything but typical. 
At 8:05 a.m. on Dec. 2, Shea and her 12-year-old brother Cormac were waiting for the school bus on 7th Line in Port Hope, ready to start their morning commute to St. Anthony CES when they were hit by a northbound vehicle.
Cormac died at the scene. Shea was airlifted in critical condition to Toronto's Sick Kids hospital where Brendan said doctors "performed their many miracles," including an 11-hour surgery to reconnect her skull to her spine and treatment for major neurological head trauma among other injuries.
Nine months later, against all the predications of her medical teams at Sick Kids and Holland Bloorview Kids Rehabilitation Hospital, where she spent four months in recovery, Shea walked into the front entrance of St. Anthony on Sept. 7 to begin the first day of the school year.
"Shea had a really long road back," her father explained. "The therapists, doctors, nurses, were extraordinary in getting her back, but it was Shea's determination that got us here ultimately. She was determined to get back home, to start the school year. It's really quite something."
"Shea doesn't give up easily. She just keeps plugging away," Jennifer added.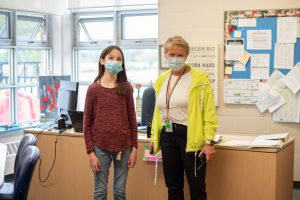 School principal Karen McCormack said Shea's resolve to get back to school has been an inspiration to students, staff and the whole school community. 
"She has really put her heart and soul into getting better and to getting here on the first day of school," McCormack said.
From the moment the tragedy occurred – the emergency first responders who acted so quickly, the team at Northumberland Hills who resuscitated her, the doctors at Sick Kids who put her back together, the school support that wrapped around the family and the sports teams who honoured Cormac with a community-wide vigil, the Kerin family has felt the love and care from the community.
"The hardest thing to imagine is losing a child. Then you are planning for a funeral at the same time your other child is fighting for her life in the hospital. But the community, starting with the school, and starting in this community where Jen and I have grown up, was overwhelming. It was unbelievable. And it mattered. It helped," Brendan said. "The way the community honoured Cormac was truly one of the most special things I've ever seen in my life. The outpouring of support in the middle of a pandemic, it was incredibly respectful and kind. We're so grateful."
Shea has returned to school with some major obstacles still to overcome, including vocal cord paralysis that limits her speech, and she still requires a feeding tube for eating. But Shea, whose favourite subject has just recently shifted from math to arts, is determined to blend back into her classroom and just be a normal kid again.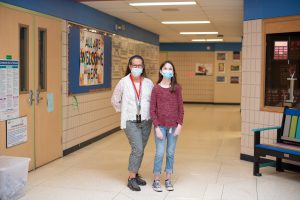 "She absolutely inspires me to go to work each day," said Education Assistant Kathryn Komar, who provides one-on-one support for Shea. "I love her strong spirit. She's a firecracker."
"It has been really inspiring watching my young sister, an 11-year-old go through that. It has been emotional seeing all that she's gone through, but I'm really proud of her," Aishling said.