Deep Learning water project at St. Anne CES featured at PTBO ReFrame Festival
Jan. 26, 2021
Students and staff at St. Anne Catholic Elementary School in Peterborough whose Deep Learning project to transform a flooded section of the school property into a "learning laboratory" have been featured in a short film currently being screened during the annual 2021 Peterborough ReFrame Film Festival, which runs throughout January.
Teacher Anne Corkery, who was the recent winner of a national environmental education award, and her Grade 7 class are featured in the film "Headwaters to Hearts", a short film by GreenUP, which tells the story of the classroom deep learning experience, which transformed their relationship with water and protected the local watershed.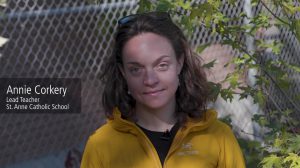 The film showcases the project to reforest and landscape a section of the St. Anne CES schoolyard to create a buffer zone to prevent springtime flooding.
In the process, students planted pollinator gardens, a rich arboretum of native plant species and a rain garden to address drainage issues and they drew deeper lessons about the health of their community's watershed and their stewardship roles.
"We worked to cultivate a sense of appreciation for nature and for water so that they feel this sense of ownership and stewardship over this eco system that we're building out back," Corkery says in the film. "My students have taken the role of the planners, working closely with our funding partners and landscape architects to develop a space which will meet the needs of all human and non-human stakeholders."
The film captures the passion of the student participants.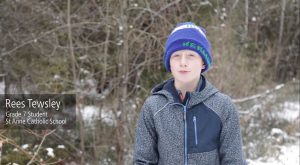 "Now I can 100% say that I'm a plant nerd. I love plants. It's just so fascinating," explained then Grade 7 student Rees Tewsley who was featured in the film. "It turned into so much more than an experience, it's a lifetime worth of learning."