Cook Eat Love – PVNC Catholic secondary schools hosting unique Asian History Month culinary experience
Restaurant owner Susan Tung shares her culinary journey and brings hands-on Asian cuisine demonstration to secondary students 
May 18, 2023
As a Chinese Canadian growing up in Peterborough, Susan Tung says she just wanted to fit in.
Speaking at Holy Cross Catholic Secondary School as part of an Asian Heritage Month event called "Eat Cook Love," the local restaurant owner encouraged students to embrace the things that make them different.
"It's OK to be different. What makes you different now is actually going to be your greatest asset later on," Tung said.
As the owner of Vietnamese restaurant Hanoi House and Japanese restaurant NAKA, Tung spoke to students about her childhood growing up as a minority in her community and her journey in food, from her family's roots operating a Chinese restaurant in Cavan to her decision to open the door to more authentic Asian cuisine in Peterborough.
"My family owned the Golden Wheel in Cavan. Chinese food to me and on our menu was chicken balls, and egg rolls and General Tso Chicken," she explained. "My perspective of food has really changed over time and I have learned a lot about what it means to be Asian. It has required a lot of self-discovery and putting myself out there and being OK with who I am and excepting that I was not like everyone else growing up."
PVNC Catholic hosted Cook Eat Love to participating students at all secondary schools throughout May. Tung and her restaurant staff helped students explore the distinct flavour profiles of Asian cuisine in hands-on demonstrations while sharing her culinary and entrepreneurial journey through storytelling.
"The goal is to break bread together, and in doing so, to build connections, collaboration and engagement," explained Benjamin, the Board's Equity, Diversity and Inclusion Advisor. "Asian cuisine is a treasured legacy passed down from generation to generation and we are so blessed to have Susan Tung share with our students in such a meaningful way."
Students got the opportunity to work with Hanoi House general manager Morgan Bell, who talked about important elements of Asian cuisine and demonstrated how to make Vietnamese spring rolls.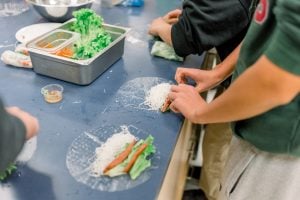 Students left with a new appreciation of Asian culture and full stomachs.