HOW TO CHANGE BOOKMARK FOR STUDENTLINK
The old studentlink bookmark of www.pvnccdsb.on.ca/studentlink.asp will no longer work. To change this bookmark first delete it by opening Internet Explorer and selecting Favorites then highlight the bookmark and right click and then select delete.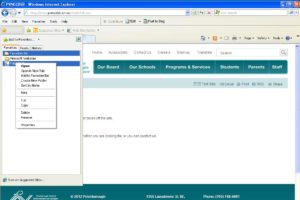 Now to create a new bookmark to Studentlink page
Go to http://apps.pvnccdsb.on.ca/studentlink you will be prompted for your username and password. After entering this then please bookmark the page. Using the favorites button.