Holy Cross CSS grad earns prestigious STEM Schulich Leader Scholarship
June 3, 2022
Liam Doris to receive $100,000 scholarship to pursue engineering degree at Queen's University
Growing up on a small family farm near Keene, 18-year-old Liam Doris says he has always been interested in the intersection between technology and agriculture.
Now, having been awarded the prestigious Schulich Leader Scholarship for Science, Technology, Engineering and Mathematics valued at $100,000 to pursue an engineering degree at Queen's University, Doris said he is interested in a STEM-based approach to food production.
"I want to be able to make a change. I felt engineering is the best place to do that," Doris said.
"Growing up on a small family farm has given me a deeper understanding of where our food comes form and the work that goes in. With an ever-expanding population and cities that are growing, there is less farmland, but you need more food. If you could further optimize technology in the agricultural sector, that would be a good opportunity to make a change and help put food on people's tables."
Only 100 Schulich Leader scholarships are awarded across Canada per year. Every high school in Canada can nominate one graduating student each year to apply for the scholarship.
"Liam is a very strong academic student who also contributes to the culture of Holy Cross CSS and community," principal Sherry Davis said.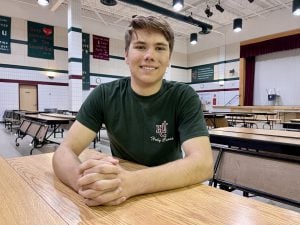 An MVP of the school cross-country team, Doris is a peer tutor, an active Link Leader and an engaged member of the school's environmental Specialist Highs Skills Major Program. During the COVID-19 period, Doris helped to establish the school's virtual chess club, which has continued to thrive even after students returned to in-person learning.
"Liam's contributions have been combined with an academic schedule of university courses and maintaining marks in the high 90s throughout his high school years," Davis said. "Holy Cross congratulates Liam on winning this award and we wish him all the best in his future endeavours."
Doris said he was shocked when he heard he had been awarded the scholarship, especially after he learned more about his fellow winners.
"It was quite the experience, something I'll never forget," he said. "If you read some of the stories about some of the other Schulich winners, some of the things they have done are incredible, so to be able to be placed amongst them, it is an honour."
Doris said his time at Holy Cross has gone by quickly and he will miss the friends and teachers who positively influenced him over the past four years.
"It feels like just yesterday we came into the school for the first time," he said. "It has truly been incredible here. The teachers and staff have been amazing. They put in all the effort that they could to ensure it has been a good experience."